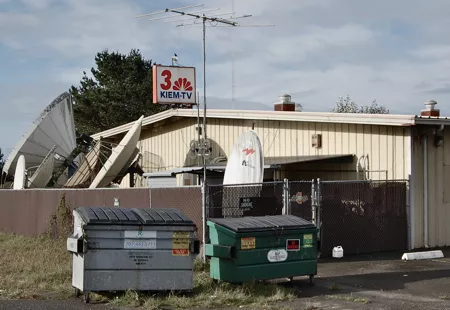 The station may call itself "News Channel 3," but I suspect they'd rather not be the news. A trailer behind the staion's Humboldt Hill HQ was allegedly broken into over the weekend, with the thief making off with roughly $10,000 worth of equipment, including four news cameras.
On 01-27-2013, approximately 12:00 noon the Humboldt County Sheriff's Office received a call from the station manager of KIEM News reporting a burglary to the station. A deputy responded to 5650 South Broadway Avenue, Eureka and met with the station manager who reported that someone stole four news video cameras and a scanner from a single-wide trailer located behind the building. There were no signs of forced entry.

The stolen items were last seen in the trailer at 8:30 p.m. Saturday night, 1-26-2013 and were discovered missing on Sunday, 1-27-2013, approximately 11:00 a.m.

The news station and the Humboldt County Sheriff's office is requesting the public be on the lookout for the three stolen Sony cameras and a Panasonic camera, along with a radio shack scanner. Estimated loss is $10,000.

Anyone with information for the Sheriffs Office regarding this case or related criminal activity is encouraged to call the Sheriffs Office at 707-445-7251 or the Sheriffs Office Crime Tip line at 707-268-2539.