Our dance columnist Stephanie Silvia filed this review of Hubbard Street Dance Chicago's Tuesday, Feb. 5 performance at HSU's Van Duzer Theatre:
The members of Hubbard Street Dance Chicago move like they were born to inhabit choreographer Ohad Naharin's sensual and emotive movement landscape. Naharin, artistic director of Israel's lush Batsheva Dance Company, reworked sections from earlier works, Threeand Max, into the intricate piece Three to Max for Hubbard Street.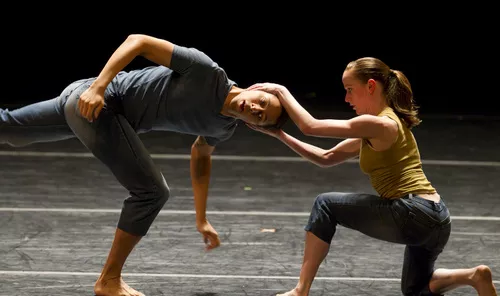 Earnestness and clarity brought us into the deep nuances of communication that exist without words. Whether brilliantly accumulating movements -- one- one, two- one, two, three- all the way to 10 and back to one with a new sequence -- or grouping and regrouping in migratory patterns, the dancers immersion in the dance captivated. As stunning as Hubbard Street performed, it left an ache imagining how Naharin's own Batsheba Dance Company would perform his work.
Sharon Eyal, choreographer for the scintillating second act of Tuesday's program for Hubbard Street, is a former Batsheba company member who danced under Naharin for years. Some of the older master's imprint is seen on this original dance-maker in how she scatters groups about the stage and sets quirky solos against a living backdrop. Eyal has stretched Naharin's contrast of the classical against the pedestrian by adding fairly new archetypes derived from dancing to rock, bluesy and house-party music.
Costumed in platinum wigs, women Dutch-girl style, men coiffed in spiky cuts, all in nude unitards, Eyal's corp in Too Beaucoup was a like a chorus line on acid. The piece was remarkable, both in the intense focus of the dancers and in the choreography's relentless attention to the beat of the music. Yet where Naharin kept me enthralled, Eyal lost me at times with too much repetition. My bias could be generational, attached to the earthy roots of modern dance, the interplay of yearning and athleticism, the movement to movement unfolding of empathic bodies as revealed in Three to Max.
Most compelling were sections in Too Beaucoup where the company cued up in four columns, each column intermittently echoing the other in seemingly endless variations, a leg kicked high there, a hip shimmy here and over here and back there, a lunge, a dive, a shoulder shrug, always, always driven by the music. The dancers created a cacophony of organized chaos, with just enough spontaneity and recklessness against the repetition and unison. This exhilaration of form brought Eyal' s work to an extraordinary level. Remember, Hubbard Street Dance Chicago are giants in their field.