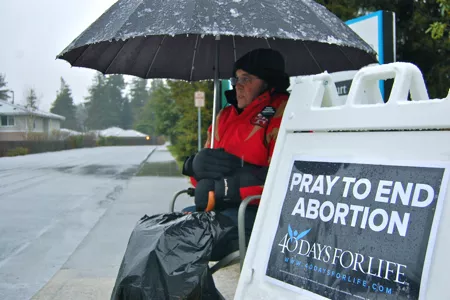 Early Tuesday morning, as cold and hail sucker punched Humboldt, Eureka City Councilman Lance Madsen sat alone in a camping chair on the sidewalk, hunkered down under an umbrella with plastic covering his legs, attempting not to freeze. He is one of those who have pledged to be a peaceful, sign-wielding presence on the side of the road leading to Six Rivers Planned Parenthood as part of the national, evangelical 40 Days For Life campaign.
Today is day seven.
"Do I look warm?" Madsen said with a chuckle as tiny circles of frozen weather tumbled off his umbrella. To his left sat a sandwich board with his group's slogan: "PRAY TO END ABORTION."
"It's not meant to intimidate anybody," Madsen said of the vigil. "It's just prayer."
The numbers haven't been particularly intimidating. The Journal visited the site of the vigil twice last week, finding three people both times. A kickoff event held on the evening of Feb. 12 drew about 20 people. While some of the movement's locations are holding 24/7 vigils, the Eureka version is committed from 7 a.m. to 7 p.m -- supporters sign up for one hour shifts. At times, a video camera sitting on a tripod aimed at the street leading to the clinic was visible, but protesters we talked to said it had not been turned on and that it was simply a deterrent for any trouble. (I did not see the camera running.)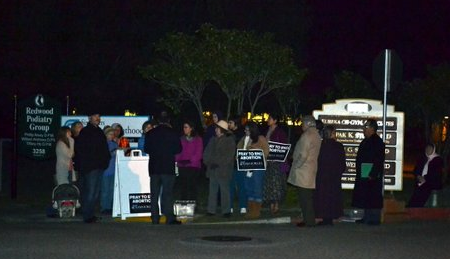 Six Rivers Planned Parenthood has responded. The same day the vigil began officially, Feb. 13, it sent out messages to supporters via email, social media and its website announcing the "Pledge-A-Picketer" campaign to raise funds and awareness. As of today, SRPP reported that it had raised $4,907.
If either cause seems worthy to you, feel free click these:
40 Days for Life:
National website
Local Facebook page