For several years now, a certain fancy foretune-teller has heckled and charmed walkersby in Old Town with his commanding come-hithers. And for a diviner-in-a-box, Zoltar's been surprisingly mobile.
He spent a few years in front of Sea Breeze Candy store down in the Bayfront One complex at the foot of F Street. After that closed, he set up shop in front of Shorelines Gallery. That closed, and now he's a few paces over, in front of Eureka Books.
Same sharp look in his blue eyes. Just as be-ringed and be-baubled as ever. He looks very prosperous. But what of his hosts?
Indeed, one has to wonder if it truly is good fortune to have such a creature stationed in front of one's business. One who, to put a finer point on it, dispenses cheap fortunes to those who stand before him while, one by one, the establishments behind him fold up and close. Sea Breeze -- closed. Shorelines Gallery -- closed. Not a cheery record. Weren't the proprietors of Eureka Books even a wee bit worried about taking on Zoltar?
"Before we bought Zoltar, we consulted Zoltar," said Eureka Books co-owner Scott Brown the other afternoon at the bookstore. He sounded confident, just a twitch of a self-mocking smile on his face.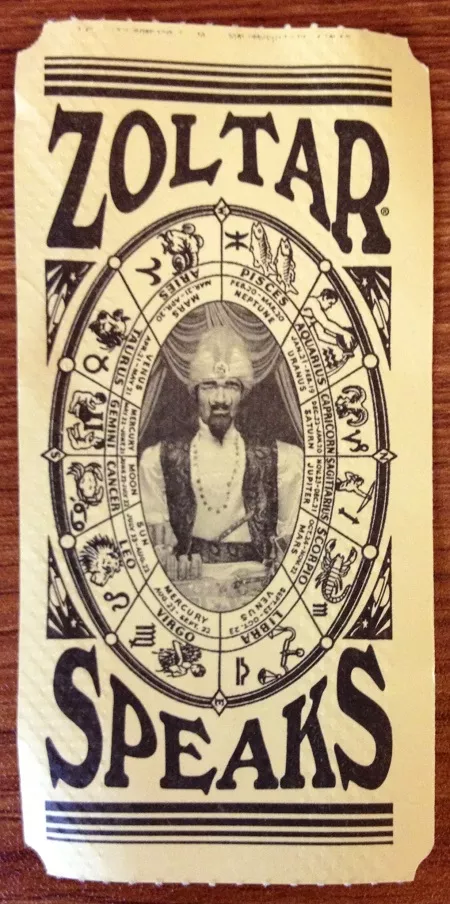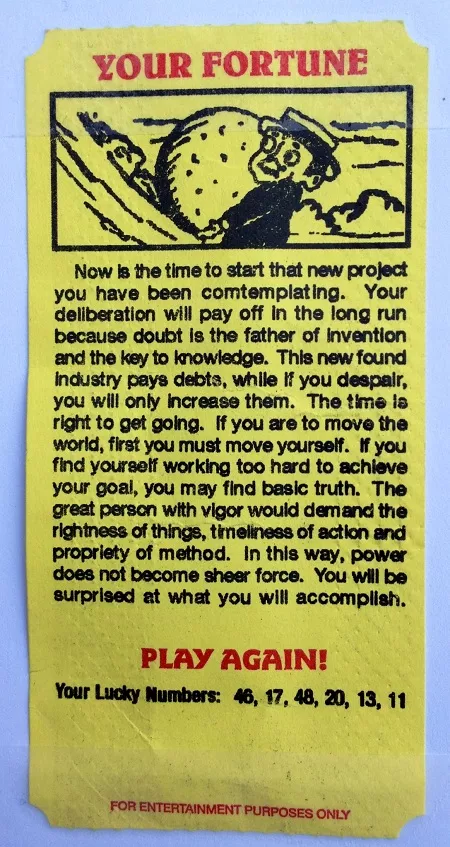 He opened up to a page in a journal where he'd tacked a yellow rectangle of paper: Zoltar's answer. Key wise phrases -- "Now is the time to start that new project" and "This newfound industry pays debts" -- leaped out.
"'We took that as a sign," said Brown. They bought him for $4,500. (New, he'd be about $9,000). "But then ... I hadn't really considered his closing a business."
Co-owner Jack Irvine, busy shoring up the back of a crumbling Bird's Eye View map of Eureka, quickly flipped the notion. Zoltar brings good fortune. Period. "Matt closed because he was so successful, and he retired," Irvine said about Matt Butler, who, with his wife, Sherrie, owned both Sea Breeze and Shorelines. Indeed, this is what the Butlers also say on their website: The successive shutdowns of their businesses were part of the retirement plan.
Maybe so, maybe so. But one thing also seems apparent: Zoltar looks after Zoltar. That bookstore fortune? It sounds like he's talking about himself. Especially this part: "The time is right to get going. If you are to move the world, first you must move yourself."
Any good fortune befalling those who engage with Zoltar could just be collateral benefit from the seer's delusions of power and rank ambition.
One more thing: Sometimes, another foretune-teller comes along and tries to oust Zoltar, wherever he is. Zoltar always wins.