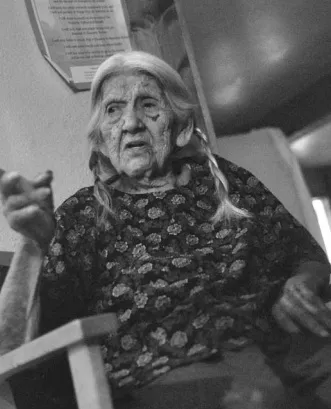 The Del Norte Triplicate writes that Ada Charles, who was born Dec. 17, 1909, has died. She was the oldest member of the Yurok Tribe, and for the past several years her birthdays have made the news. A 2010 Times-Standard announcement of her 101st birthday celebration in Klamath, to which the community was invited, noted:
"... Charles grew up tending to her family's ranch -- milking cows, doing housework and canning fish. Besides a few years attending government school in Hoopa, working in the Bay Area as a housekeeper and living briefly in Ukiah with her daughter, Charles has been a Klamath resident, keeping Yurok traditions alive, including the Yurok Jump Dance, a traditional dance held every other September."
Charles grew up near Pecwan, along the Klamath River in Waukel Village (her parents were Nettie and Harry Waukel). She spoke fluent Yurok -- it was her first language -- and was a master basket weaver who taught new generations of weavers the tradition.
A January 2011 story about her in Yurok Today, the tribe's newsletter, said:
"Some of her fondest memories are of collecting and processing basket materials such as bear grass, hazel sticks, spruce roots and maiden hair ferns to name a few. She knows precisely when the basket making components are ready for harvest. She wove all the way up until last year when her hands became too weak to make the weave."
When she was 91, Deborah E. McConnell interviewed her for Roots & Shoots, the California Indian Basketweavers Association's newsletter. McConnell asked her about her favorite baskets to make. Charles replied:
"Anything. I dream about it. It just comes to me and I have to make it. I put everything else away and just start making it. If you want to make a cap, just make it."
She added that she didn't draw out a pattern first, but worked straight from the image in her head.
In her online obituary guest book, a relative whose grandmother was Charles' sister reminisced:
"... I lived with my grandma Minnie and Ada visted often in Klamath and in Crescent City, they would work on baskets all day. Later I would camp on the river fishing in the Charles camp and Ada even in her later years would be filleting fish for the smoke house. Her house was always open and I would stop by to here the local news an seems I would see a new relative everytime I stopped, those were good times. I live so far away from Klamath it always felt good to come home and Auntie Ada made me feel welcome."
Charles died Feb. 21.