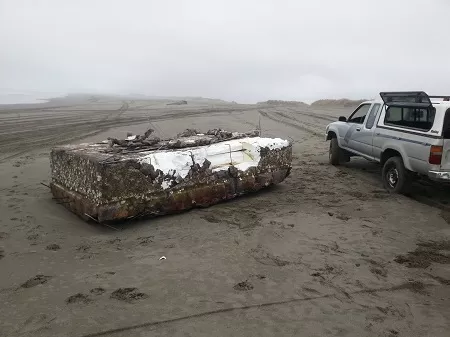 Those surfers! Another beach disaster was averted the other day after Humboldt Surfrider member Bill Lydgate spread the alarm that one of those giant, shell-encrusted concrete-encased styrofoam blocks -- they come from floating docks -- had washed ashore and was breaking apart on the beach near Bunker Road on the North Jetty. Wrote Lydgate in his Feb. 28 email blast:
"Yesterday, the block was intact. During the high tide and 12' swell last night, the block cracked open and has started to spew polystyrene. ... The block is approximately 10' x 8' x 3' so there may be 9 cubic yards of styrofoam."
If the block didn't float away in the next high tide that night, he wrote, maybe a bunch of people could go out and wrestle it in and take it away.
March 1, the Humboldt Bay Harbor, Recreation and Conservation District got a volunteer 'dozer operator out there who hauled the thing to the parking lot. Surfrider members cleaned up the foam-scattered beach.
Dan Berman, director of conservation for the harbor district, said the blocks are likely from old docks within Humboldt Bay. This was a a rare one that made it to a beach outside the harbor entrance, he said.
"There's 21 of these things in Humboldt Bay that we need to clean up," he said. "There's some on the shore at Indian Island, where the Wiyot Tribe is doing cleanup. A number around the bay are either washed up on the shoreline or half buried in the sand or mud."
The Wiyot Tribe and the district are seeking a grant to do the work.
Why are they a problem? Well, the trash factor -- a big mess of foam all over the beach and water. And who'd want to run a boat into one of those things bobbing around waterlogged and unseen just beneath the surface?
The roughly 2,000-pound block taken in last week will end up at the Redwood Marine Terminal, where the district has been stockpiling stray dock blocks until their next purpose is discovered. In the past, Kernen Construction, based in Arcata, has taken blocks and recycled them, said Berman.