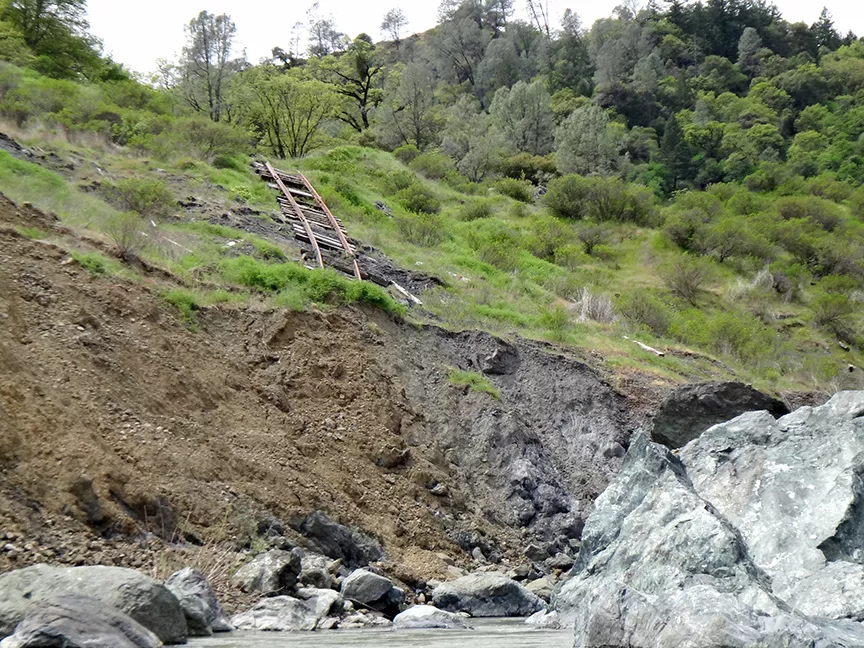 This is what the NCRA line looks like in Humboldt County.
The tie-breaking vote fell to 5th District Supervisor Ryan Sundberg, much to his chagrin. At today's meeting, all five county supervisors commended the two high-quality candidates for the board of the North Coast Railroad Authority — Dan Hauser, a political veteran who served in the state Assembly, helped create the NCRA and spent two years as the agency's executive director, and Richard Marks, a current Harbor District commissioner.
After public comment and much hand-wringing, 4th District Supervisor Virginia Bass moved to appoint Marks, and 3rd District Supervisor Mark Lovelace seconded the motion. Second District Supervisor Estelle Fennell indicated her preference for Hauser, and 1st District Supervisor Rex Bohn agreed, leaving Sundberg in the hot seat.
"I'm on the fence," he said, more than once. Visibly uncomfortable, Sundberg looked left then right, mused a bit on his indecision and then finally said he'd support Marks. The motion to appoint Marks passed 3-2.
On its face this would seem to be something of a win for trail advocates, as Hauser has historically been more of a hard-line rail-resurrection type. Both men said they'd be open to the return of rail service to Humboldt Bay, though they also admitted that they don't have a specific plan to make that happen. This is not surprising considering no one else has such a plan either.