Remember how we mentioned in our
bus story (July 18
) that a new-and-improved schedule was in the works? One that will restore frustrated local bus patrons' pulled-out hair and diminish their brow furrows – er, ahem, that is, make it easier for them t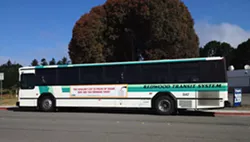 o plan their daily excursions?
It's starting Aug. 19! That's what Humboldt Transit Authority's Greg Pratt tells us in a news release. Beginning that Monday in mid-August, Redwood Transit riders traveling between McKinleyville and Fortuna will be able to ride the bus Monday through Friday, Northbound and Southbound, every hour. Passengers riding between College of the Redwoods and Arcata will be able to catch the bus every half hour, Pratt adds.
On the hour, and on the half-hour – bye-bye, randomly-fragmented-time headaches!