Inside a house on a corner lot in Eureka, a resident patiently (we presume) waits. And waits. And waits. Or maybe gave up.
The sign -- "Robbers, please put the car keys in mailbox" -- has been up for months and months.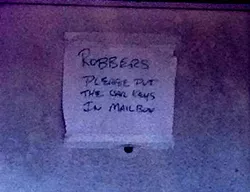 There's a similar sign on the garage-door side of the house. An old pickup's in the driveway.
Anyone have luck with this kind of courtly treatment of no-good sleazoid space-invading stuff-stealers?