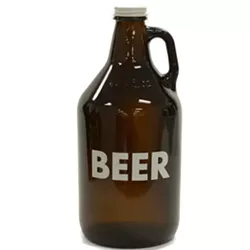 Freedom to enjoy your favorite beer — that's Wes Chesbro's (D — North Coast) vision of California. He's calling for Gov. Jerry Brown to end the persecution against owners of growlers — those 64-ounce beer bottles — who just want a refill.
Growlers are an increasingly popular way to get fresh-brewed craft beer home. Even in the North Coast's burgeoning brewery market, some beermakers decline to bottle their specialty beers (or any of it), meaning the only way to enjoy it is in a glass, on the town. Resealable growlers give tipplers the ability to bring those suds home, or to the neighbor's barbecue.
Growlers have been around, but confusing alcohol laws prohibited a brewery from filling a growler unless it was permanently branded with that brewery's label. The legislation Chesbro is championing (beer, apparently, is a unifying force, as the bill was co-authored by Republican State Senator Steve Knight) would make it OK for brewers to fill any growler, as long as the now-laden vessel was properly labeled and showed no signs of its former contents.
It seems hard to imagine that the one-two political punch of calls for "beer!" and "freedom!" would fall on deaf ears in the Capitol, even if the Governor is more inclined to
butterbeer
.
From Chesbro:
SACRAMENTO – A bill by Assemblymember Wesley Chesbro (D – North Coast) to give craft beer aficionados more freedom to enjoy their favorite brews awaits Gov. Jerry Brown's signature after it won final approval from the Legislature today. If signed, AB 647 will establish clear labeling guidelines for breweries who wish to refill consumers' "growlers," glass containers that typically hold four pints of beer, that were purchased elsewhere.

"Consumers would like to reuse their containers, not just at the original brewery but to sample beers from many breweries," Chesbro said. "Growlers have become an increasingly popular way for customers to buy beer from local craft breweries. This change in the law makes sense for consumer freedom of choice and the growth of the microbrew industry. I urge Gov. Brown to sign AB 647."

AB 647 clarifies the labeling requirements for the reuse of growlers. These requirements include identification of the brewery and the name of the beer. The new label must cover all information related to other breweries or beer that was previously in the growler. AB 647 also addresses the abuse of the statutory definition of "beer manufacturer" by entities that do not possess or use facilities or equipment to actually manufacture beer and clarifies the law relating to trade show tastings.

"This bill to address labeling laws is good for both the craft brewing industry and consumers alike," said Tom McCormick, executive director of California Craft Brewers Association, which supported the legislation. "The use of growlers to purchase craft beer from local breweries has become very popular in California. The CCBA supports this trend and is gratified the Legislature approved this bill."

"More than half of Americans now live within ten miles of a craft brewer, and many of these local entrepreneurs want to make it easier for customers to cost-effectively bring home their beer using a growler," said State Senator Steve Knight (R-Antelope Valley), who was AB 647's principal coauthor and presented it in the Senate. "Growlers are a wonderful, economical alternative that allows beer enthusiasts to enjoy their beer without wasting containers that only have a one-time use."