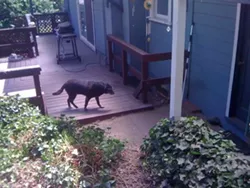 Humboldt County Sheriff's Office
Becky.
One of the three dogs
found abandoned
on Samoa beach last month died Friday.
A veterinarian euthanized "Becky," a black Labrador retriever, after discovering she was bleeding internally from invasive nasal cancer, the Sheriff's Office reported. Veterinary records gathered by Animal Control indicate Becky had been experiencing symptoms since at least May 2012.
"Angel" and "Ginger" — the other two dogs found near Fairhaven on Aug. 21, are healthy and awaiting adoption.
From the Sheriff's Office:
Veterinary costs for Becky were supplemented by the Friends for Life Emergency Medical Fund. Anyone wishing to donate money to this fund in memory of Becky or to help support the many shelter dogs that are saved every year through the use of the fund can send a donation to FFL EMF, P.O. box 962, Eureka CA, 95502 or at www.dogrescuers.org.