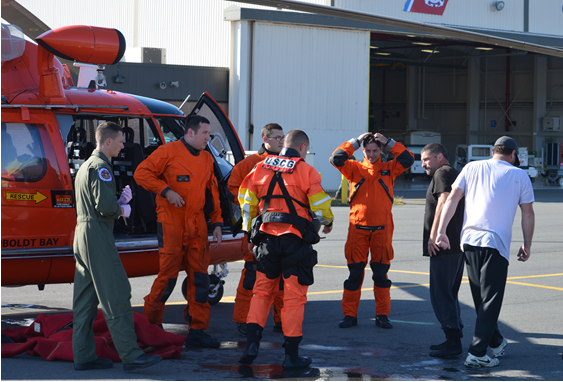 US Coast Guard
Safely on the ground, survivors and the Coast Guard crew of a MH-65 Dolphin helicopter discuss the rescue of the crew of the vessel "Kellen A" off of Punta Gorda.
Update: The Coast Guard sent us this overhead video of the rescue, showing the helicopter crew lower a basket and pull the fishermen to safety.
All that training pays off. Coasties pulled two men from a sinking fishing boat Friday, 35 miles off the coast of Punta Gorda. A rescue swimmer hoisted the crew of the "Kellan A" into a helicopter after the coast guard searched for the source of a faint mayday call.
From the Coast Guard:
A Coast Guard MH-65 Dolphin from Sector Humboldt Bay rescued two people from a 47 ft fishing vessel taking on water 35 miles off the coast of Punta Gorda in northern California.

At 2:38 p.m. Coast Guard Sector Humboldt Bay received a garbled Mayday call from the fishing vessel "Kellan A" 35 miles west of Punta Gorda that was taking on water in 8-12 foot seas and 20 knot winds. Shortly after making the Mayday call, both crewmembers donned survival suits and evacuated to a life raft. Less than 30 minutes later, Sector Humboldt Bay had launched a MH-65 Dolphin helicopter from the Arcata Airport, as well as two 47 foot motor life boats from Station Humboldt Bay and Station Noyo River.

The helicopter arrived on scene by 3:30 p.m., having detected and homed on the two survivor's 406 Mhz Emergency Position Indicating Radio Beacon (EPIRB) signal, which sends a signal with the vessel's position to emergency services via satellite. The crew noted that the vessel was partially submerged and the two survivors were sheltered in a life raft. The helicopter entered a hover, deployed the rescue swimmer, and hoisted aboard the two survivors.

With the two survivors onboard, the helicopter returned to the Arcata airport where an ambulance from Mad River Hospital was waiting to provide medical treatment.