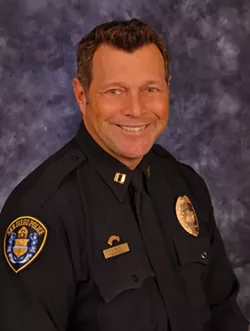 After a
frustrated withdrawal
by previous front-runner Michael Johnson, Eureka City Manager Bill Panos today announced that Andrew G. Mills, a former commanding officer in San Diego, is slated to be the next chief of the Eureka Police Department. The Eureka City Council plans to confirm Mills at its Oct. 1 meeting, according to a press release, and he's scheduled to start on Nov. 4.
Here's the press release:
Eureka City Manager, William T. Panos has recommended the appointment of Andrew G. Mills to serve as Eureka Police Chief. Mills is a national award winning law enforcement professional and brings years of command and community policing experience to the position. The Eureka City Council plans to confirm the new Police Chief at the next City Council meeting on October 1, 2013. Mills is scheduled to start on November 4, 2013.

"After a comprehensive search, I am very pleased that we have found an outstanding candidate to serve as our police chief. His experience in key command positions and extensive experience with community policing is a strong asset to our city. I look forward to working with him," said Mayor Frank Jäger.

Most recently, he was the commanding officer of San Diego's Western Division responsible for patrol and investigations for over 140,000 residents, the airport and large business districts. In that part of San Diego he also led efforts with the mental health community to handle a large homeless population, increased efforts to reduce violent street robberies and transformed their neighborhood watch programs.

Mills was previously commanding officer for the Eastern Division of San Diego, commanding officer for criminal intelligence, and unit commander for gang investigations. In his role as commanding officer for criminal intelligence he was co-creator of the National Criminal Intelligence Enterprise, integrated intelligence led policing into the agency, dismantled parts of a major Mexican drug cartel in the region, and built solid relationships with the Jewish anti-defamation league and Muslim groups throughout the San Diego area.

Mr. Mills serves on the Homeland Security Policy Institute at George Washington University, has received over 20 internal service awards for meritorious service, exceptional performance and several commanding officer citations. In 2000, he won the Police Executive Research Forum's Gary P. Hayes award for excellence in police leadership and led a team that won the international Herman Goldstein award for excellence in problem oriented policing.