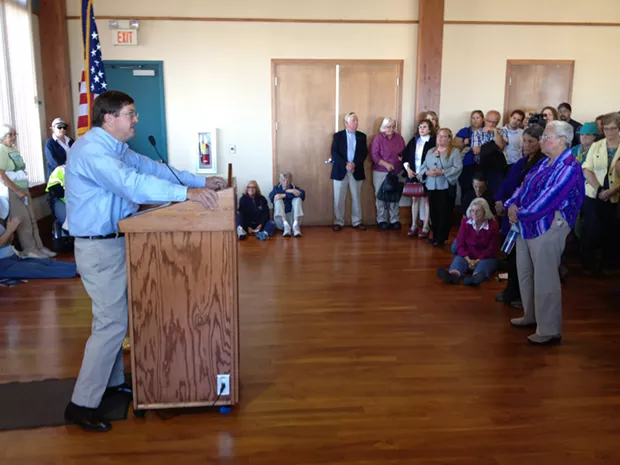 Update: All charges against Elise Gerhart have been dismissed and her arrest record expunged based on a Nov. 4 order from Humboldt County Superior Court Judge Marilyn Miles that deemed Gerhart factually innocent in the case.
Update: Arrest records posted this morning by the
Lost Coast Outpost
show that the Eureka Police Department did in fact make four arrests at around 6 p.m. Wednesday night. Kimberly Lauren Starr, Stephanie Nicole Bartlett, Elise Alcyone Gerhart and Chad Alan Kemp were arrested on suspicion of crimes against the public peace. Gerhart and Kemp face the additional suspected arresting charges of assault and battery.
Previously: If Rob Arkley was looking to stir the pot when he proclaimed last week that the homeless have overrun Humboldt County and are living high on the hog thanks to all those public benefits available to them — well, mission accomplished.
Turns out a lot of people have something to say about that.
Hundreds packed into the Wharfinger Building on Wednesday evening to take part in the Eureka businessman's community forum to address the homelessness "crisis."
At 5:35 p.m., cars were still streaming toward the meeting site from both directions, and drivers lurched over a curb to park in a dirt lot beside the building's jammed parking lot. On the front walkway, frustrated people jostled as police held them back, and one man briefly made a grab for the door before it closed. Several in the crowd shouted that they had RSVP'd, as requested, but the door monitors said that didn't matter. The building was past capacity.
The Wharfinger Building holds 299 people in both the designated meeting room and on the adjoining deck, according to Alex Bippus, who said he was a Eureka city employee who helps run the site. Gradually, as people left, others were allowed in.
Arkley started off the meeting by outlining his own plans. First, he wants to form a committee — no, he said, he doesn't have to be the chair — which will put a microscope on the Humboldt County Department of Health and Human Services. The committee, he said, will tear apart the department's budget, looking for the mandates, grants and obligations the county has to provide services to the homeless. And don't worry Phillip Crandall, Arkley understands that being the department head is a big job — the committee will just be looking to help. It will do that, he said, by identifying — he didn't explain how — which programs are drawing the homeless to the area.
From there, Arkley wants to see the committee put pressure on the Humboldt County Board of Supervisors. Specifically, he wants to see the board weigh each spending decision for its possible "negative impact" on the community.
"I get the upside," Arkley said. "The homeless are getting a meal. The homeless are getting a bath. The homeless are getting a place to stay. I get all that. But what about the downside to the community? What are the taxes, the soft taxes, to the community?"
Lastly, Arkley wants the supes to vote on each action involving the homeless, one-by-one. Following that framework, Arkley said, he is confident that a year from now, Humboldt will be a better place. We all just need to work together and cut out the fluff.
"This is a case where our desire to do right has become wrong," Arkley said. "Too much right has become wrong. We've become an absolute magnet for the homeless unlike other communities."
Not everyone was quite on the same page. Although most in the room agreed that homelessness is a big issue, few agreed on what should be done about it.
One woman suggested that Arkley "check his privilege." Not all of us are rich, white males, she said. Her words were quickly drowned out by boos and jeers from the crowds, and for a moment it appeared that the meeting would dissolve into a giant shouting match. Moderator Shirley Fuller quickly stepped in, calling for respect and issuing a three minute limit for each speaker.
Sylvia De Rooy was greeted with applause when she stepped up to the microphone and questioned Arkley's facts. "Virtually every premise that Arkley has put forward is a false premise," she said.
"What will guarantee more homeless on the streets, is to cut off any existing support services," Derooy said. "It's nonsense to say we are being too generous in our help to homeless people. The truth is that what is being offered is grossly inadequate and that is the major case of the numbers of homeless people in our area."
Several business owners took the opportunity to voice their concerns. One woman said she was tired of cleaning up defecation off her front stoop. Another said he thought a neighboring soup kitchen was luring in the homeless and driving away his female clients. When you drive through Eureka on a Sunday, it looks like you are riding into a toilet, he said.
Beverley Wolfe, owner of Avalon in Old Town, said she understands the issues — she was once homeless on the streets of New York, she said. But Eureka has a problem and its programs need scrutiny. The homeless issue is one of the reasons she said she decided to move her business to Fortuna.
Many who spoke at the forum did so over the noise of a screeching horn and the sound of banging drums from outside. Eureka Police Chief Murl Harpham later said that four protesters were arrested on suspicion of disturbing an assembly, resisting arrest and assault. Explaining the assault, Harpham said he was doused with a bottle of water in the melee.
By the end of the night, a harangued-looking organizer estimated attendance at over 300. About 35 had stopped to add their names to a fast-growing list of would-be committee members.
Some speakers, like Berti Welty, voiced caution as the committee moves forward.
Ward said there isn't any one perfect answer. People should be held accountable for their behavior, but there should also be resources available to those looking to take control of their lives, she said. And some who suffer from mental conditions may not be able to seek out the help they need.
Eureka is not unique, Welty said.
"The real question is what are we as a town?" she said. "153 years ago, the good citizens of Eureka met to decide what was the problem with getting rid of the Indians. The result was a massacre. That community also drove all of the Chinese out of town and put them on barges. Is that the kind of community we want?"