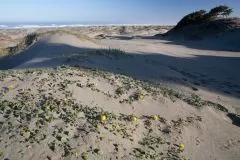 Photo courtesy the BLM
Ma-le'l Dunes
Rush into them gleefully, that is — those tall, barked hunks towering in our national-park sides of the woods, for which we've so pined over the past 16 days. They are open! Shutdown be gone! For now.
In non-giddy English: Without fear of reprimand or worse (by feds, anyway), you may now enter Redwood National Park and traipse along the trails and otherwise comport yourself legally in them thar woods. That's the word from the NPS folks. And it must be so, because their
website's
switched back on.
We're assuming this means all else in Humboldt's federal realm has opened once again to its loyal citizenry. The
BLM's site
's back on, too. Hello, again, Samoa Dunes, Ma-l'el, Headwaters ... .