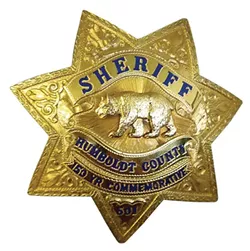 From a Humboldt County District Attorney's Office press release:
On 10-18-13 at approximately 0540 hours, the Humboldt County District Attorney's Office – Criminal Investigations Bureau arrested Humboldt County Sheriff's Office Sergeant Jason Daniels (age 40) for violations of PC243.4 – Sexual Battery, and PC289(a)(1) – Sexual Penetration with a Foreign Object. Both of these violations are alleged to have been committed against a single female victim (identity confidential) while Sgt. Daniels was on duty as a peace officer.

Sgt. Daniels has been placed on administrative leave by the HCSO, pending the conclusion and outcome of the criminal investigation.