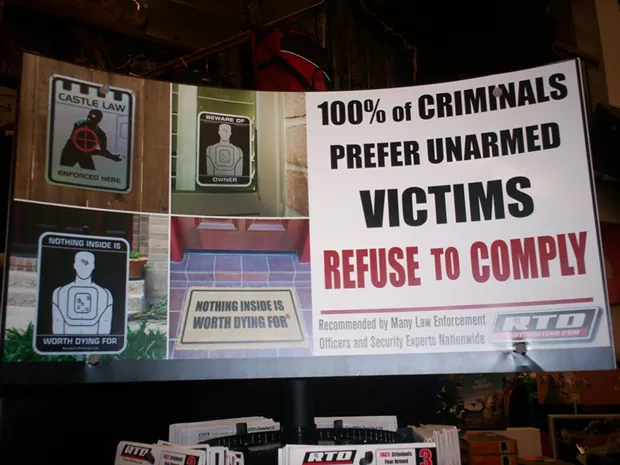 Photo by Linda Stansberry
Some of the literature on display at the gun-law meeting in Eureka.
Were one to judge by the first moments of last night's presentation on new firearm regulations, Humboldt County gun owners would appear to be an extraordinarily polite set of people.
Dozens of them, many wearing mossy oak camo, jammed into Pacific Outfitters in Eureka, sitting in the folding chairs clustered around the stairwell or standing in the spaces between. Seats were readily given up for the elderly and infirm. Backs were slapped and hands shook as old friends caught up. Then, as Sam Paredes, executive director of Gun Owners of California, ascended the stairwell and cleared his throat, the crowd fell into a respectful hush.
"I want to depress you," Paredes began. "I want to make you feel like the world is ending. Because it is."
Paredes is the picture of a firearms enthusiast. Stocky, middle-aged, with close-cropped hair, he sports hearing aids and loose-fitting clothing which (he gleefully alludes) may or may not conceal his own holstered gun. When his phone went off mid-presentation, the ring tone was the sound of a rapid-fire automatic weapon, what he calls "the most beautiful sound in the world." He peppered his speech with Biblical references.
"Jerry Brown — Governor Moonbeam — he's unlike that wise king Solomon because he just chopped the baby in half and gave us each a bloody piece," he said.
Paredes was referring to recent gun legislation signed by the governor, in particular AB 231 and AB 500, which take effect in early 2014. AB 231 requires gun owners to lock their guns away from where children can access them; AB 500 requires gun owners living with someone prohibited from owning a gun — such as a mentally ill person or someone with a criminal record — to likewise lock up their guns.
"They're requiring you, the law abiding citizen, to lock up your guns in your own homes!" said Paredes. "When you're asleep in your bed and a criminal is coming through the window, you'll have to go and get it out of the safe!"
Paredes complained that the "knuckleheads" in the legislature have responded to school shootings by unfairly persecuting gun owners. That's when an elderly man in the front row, wearing a cable-knit sweater and thick glasses, mumbled audibly, "This is bullshit," scraped back his chair and went to complain to the employees at the counter that "all he's trying to do is get us to sign up for a fucking association."
Paredes, unfazed, carried on. He lambasted the legislature's "campaign against automatic weapons." What, he asked, would they have a defenseless woman do when a gang of men descended on her home to "do evil things?" A small handgun with five rounds couldn't possibly be sufficient against the onslaught, he said. Take that incident in Georgia: A woman, home alone with her two children, calls her husband in a panic, saying a man with a crowbar has broken into her home. The resourceful husband calls 911 then instructs his wife to do as they'd rehearsed. She empties five rounds into the burglar.
"Now what," said Paredes, pausing dramatically, "would she have done if there were two burglars?"
"She woulda had to use less bullets," piped a voice from the audience.
Also beginning in 2014, all newly purchased long guns will have to be registered (AB 809). Paredes warned that "registration is the first step in confiscation."
And, under newly signed AB 711, by 2019, the use of lead ammunition in hunting will be banned in California, with lawmakers citing harm to wildlife from lead poisoning. Paredes told the audience that lead bullets do not poison condors or other wildlife, citing the "veterans we have coming back from the front with lead in their bodies, none of which have died from lead poisoning." (The National Park Service's research contradicts Paredes' stance.)
When Paredes moved on to the subject of concealed carry permits, the discussion devolved into Dianne Feinstein bashing.
One attendee recalled a time in the 1980s when Feinstein, as mayor, banned handguns in the city of San Francisco. He and his fellow truckdrivers, responsible for "half a million dollars worth of fish," began carrying sawed-off Mossberg shotguns, which they dubbed "Feinstein specials." He chuckled as he recalled brandishing the guns at prostitutes who knocked on the cab of his truck.
"I'm going to get your name after this," said Paredes. "That's a story I want to tell."
He ended the presentation with a call to arms, encouraging attendees to donate to the National Rifle Association and to Gun Owners of California. Both organizations are pushing hard for recalls of politicians who passed gun legislation.
Afterward, the gun owners surrounded Paredes, asking questions. Then, after more backslaps and handshakes, they dispersed into the cold, dark night.