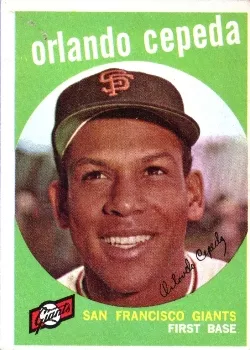 1959 Topps #390 Orlando Cepeda
The Bayshore Mall has added a couple of stores to its exterior this month (don't worry, the inside still looks like an '80s ghost town). ULTA Beauty and Sports Authority both have grand openings this weekend, Nov. 15-17 and Nov. 17 respectively. Keeping with the modern tradition of luring shoppers into their stores with the possibility of prizes, both stores will be randomly giving away gift cards and other shwag. Sports Authority, though, is stepping up its game (see what I did there?)
From 1-2:30 p.m. on Nov. 17, former Giants' first baseman Orlando Cepeda will be signing autographs and shaking hands with HumCo. Giants' fans. Have a baseball card that needs a John Hancock? Then, you are in luck!
Cepeda played for the Giants from 1958–66, which I am betting is eight years longer than
you
played for the Giants. For more information on Cepeda's impressive baseball career, head over to
The Baseball Hall of Fame
.