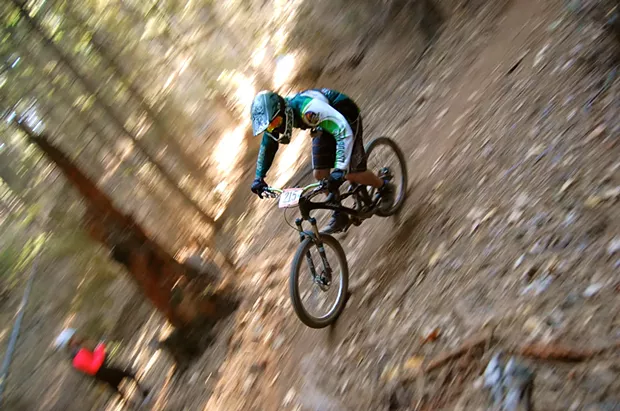 Photo courtesy Cal Cycling via HSU Cycling
Harry Ward shreds the men's C downhill at the WCCC Championships at Boggs Mountain on Nov. 17.
It must be our steep, steep hills whose harshest training trails were shaped by the original quick skidders, those ax-felled sylvan behemoths. The twists and turns were enhanced later by maniacal cyclists, we presume. And now our latest generation of bicyclists up at Humboldt State University has made cycling history, according to news from HSU Cycling.
It happened at the Western Collegiate Cycling Conference Championships over the weekend, at Boggs Mountain in Lake County. There, HSU Cycling beat every Division I and Division II team to become the overall champions. There were a lot of individual wins in separate events, and you can see all of your cycling champion friends' names
on the team's website
. Suffice to say, they kicked butt in every way.
But the team's been hot all season. Notes the release:
"It was a historic mountain bike season where HSU was the top ranked team every week all the way through conference championships! HSU has won conference championships consistently for the past five years, but this is the first time the team has beaten all the teams both inside and outside its Division II school group."


Whoosh!