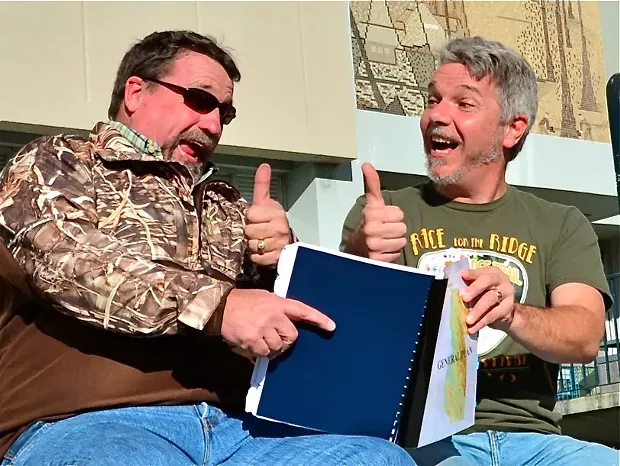 File photo
Bohn and Lovelace in happier times
In case you missed it yesterday, the
Times-Standard
's Thaddeus Greenson delivered
the definitive account
of 3rd District Supervisor Mark Lovelace's sarcasm-powered slap-on-the-back, which he delivered last week to fellow supervisors Virginia Bass and Rex Bohn at a meeting of the California State Association of Counties in San Jose.
Lovelace was reportedly frustrated at being replaced by Bass as co-chair of the Coastal Counties Regional Association (among
other frustrations
). That disgruntlement evidently found an outlet post-meeting when Lovelace approached Bass and Bohn from behind and delivered a pair of facetious "thanks-a-lot-guys" thumps. As Greenson reports, there's some dispute as to the velocity of the gesture. Bass said it aggravated an existing shoulder injury.
Lovelace reportedly apologized, and both Bass and Bohn said they hope the board can move forward.