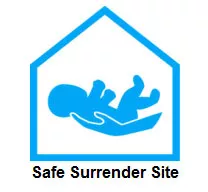 The Arcata Fire Protection District will soon be accepting anonymously surrendered babies.
The City Council on Wednesday voted unanimously to authorize the district's
three local fire stations
for safe surrender.
"It's incredibly timely that we can step forward and offer a service to the public." said Fire Chief Desmond Cowan. Created in 2001 and made permanent in 2006, the
Safely Surrendered Baby Law
is an attempt to save the lives of babies at risk of abandonment by allowing parents or people with lawful custody to safely surrender their baby within 72 hours of birth, confidentially and without prosecution.
"I believe over the last 10 years, I understood 407 babies have been surrendered in the state," City Manager Randy Mendoza said. "Which is a good thing that they get immediate medical care."
After an optional medical questionnaire, parents are given a bar code bracelet matching them to their baby, and they have a 14-day window to change their minds and reclaim them. Fire Cowan cited Battalion Chief Chris Jelinek of Humboldt Bay Fire as being the force behind expanding this initiative to Arcata. "He's an incredibly good guy," said Cowan.
On a completely different matter, the council also unanimously approved
Ordinance 1434
, which bans the use of plastic bags and restricts the types of bags available. The new law will take effect Feb. 1. And starting next August, stores offering recycled paper bags will have to charge customers 10 cents per bag. (The stores get to keep that money.) Councilman Michael Winkler added that the customers will be allowed to reuse "single-use" bags and boxes without being charged the fee.
Finally, the council approved the latest version of California's Building Standards Code, which will replace the 2010 version. Applicants have through the end of the year to submit plans before the new code takes effect.