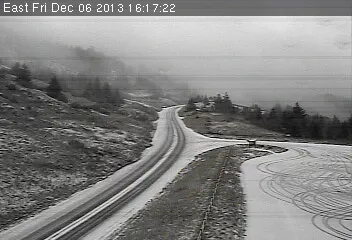 CALTRANS
Highway 299 at Berry Summit, at 4:17 p.m.
It's been cold this week, but now there's water coming from the sky. So, yeah, snow. There are reports of flakes falling in Fortuna, and it's sticking at highway summits and other high elevations around the county.
After tonight's coastal freezing rain, temperatures are expected to drop into the 20s
over the weekend
. Keep updated on the
Weather Service website
.
It's pretty and fun — but also can be dangerous. So here's a round up of tips from some of the folks who care about our safety:
First off, drive safely. The
Times-Standard
is reporting all sorts of spinouts and crashes in the Willits area (Caltrans reports
Highway 101 is currently closed north of Willits), and there's snow on Highway 299's Berry Summit too. Here's the
Caltrans website
with highway info and webcams of some snowy roadways.
The Sheriff's Office is asking weekend snow-warriors to please not toboggan on private lands:
The Kneeland-Greenwood Heights area is primarily all private property. Trespassing is a crime and trespassers could be subject to citation or arrest.
Snow seekers should utilize the Horse Mountain, Six Rivers National Forest areas for recreational activity. If you do plan to recreate in the snow, please notify family and friends of where you are going and bring appropriate safety equipment in case you become lost, injured or stuck. Make sure your cell phone is charged if you bring one with you and have appropriate winter clothing.
PG&E offers these tips for preparing for a power outage:
Have battery-operated flashlights and radios with fresh batteries ready. Listen for updates on storm conditions and power outages.




If you have a telephone system that requires electricity to work (such as a cordless phone or answering machine), plan for alternate communication - have a standard telephone handset, cellular telephone or pager ready as a backup.




Freeze plastic containers filled with water to make blocks of ice that can be placed in your refrigerator/freezer during an outage to prevent foods from spoiling.




Keep your thermostat set at 68º F during the daytime and 55º F at night.




Close drapes, blinds and shades at night to help retain heat.




Wash clothes in cold water and use detergent specially formulated for cold water use. About 90 percent of the energy use in a clothes washer goes to water heating.




Lower your water heater temp to 120ºF (low), or 140º F (medium) if you have a dishwasher without its own heating element.




Keep showers short.



Microwave small amounts of food instead of heating them up in the oven—you can reduce cooking energy by as much as 80 percent.
To report a power outage call 1-800-743-5002.