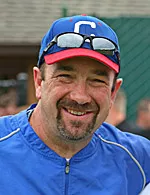 SECOND UPDATE: A press release on the Crabs website says Nutter had been considering leaving the team for two years, and made the decision now to be with his family.
From the
release
:
Nutter explained that after a discussion with his family, he decided after 23 years with the Crabs organization that this was a good time to take a break. "My daughters are nearing the time when they will go off to college and I haven't had a summer with the family in a very long time," Nutter said.

"The Crabs want to thank Matt for all his years not only as the manager, but as a former board member. Fortunately, Matt had warned us the past two years that he might make this kind of decision and he decided that this was the opportune time, especially after his phenomenal success as our skipper," [Crabs President Vikki] Rossi said.


UPDATE: Tyson Fisher — a former Crabs assistant coach and current Fortuna High baseball coach has been chosen by the Crabs board of directors to take over the manager position. Via the Crabs
Facebook page
.
Previously:
Crabs Manager Matt Nutter — who was arrested shortly after the end of last year's baseball season on suspicion of growing and possessing marijuana for sale — appears to have reached a deal with prosecutors that could see the arrest and charges wiped from his record.
The deal, a diversion possible through section 1000 of the California Penal Code, is awaiting approval from a judge. Nutter had no prior convictions for drug offenses involving violence, or threatened violence, according to his attorney, Patrik Griego. And while police reported finding 265 marijuana plants at Nutter's rural Blue Lake home
in August
, Griego said diversion was allowed if the plants were being cultivated for personal use.
"If you're growing for purposes of selling you don't qualify for PC 1000 diversion," Griego said.
If Nutter completes a court ordered treatment — most likely drug education courses — and doesn't get arrested again for 18 months, "it's as if legally it never happened," Griego said. It's an opportunity for those who "really don't belong" in the criminal justice system, he said, "something that can be dealt with more informally."
The big question, of course, is what that means for Nutter's job. The popular and winning manager has been with the Crabs for 21 seasons as a player, board member and manager. Griego said it's unlikely for an employer to fire someone if a diversion is completed successfully — after all, in 18 months Nutter's record of legal woes could, essentially, cease to exist. "It's very clear you're not convicted," Griego said of the diversion. "Most employers don't use something like this against [an employee] because there's nothing to use."
Nutter is still listed as manager on the
team's website
, though he was placed on paid administrative leave by the team following his arrest, pending the resolution of his criminal case, according to the
Times-Standard
. Crabs management has, so far, not returned calls seeking comment. We will update if and when that happens.