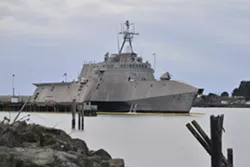 Remember that huge Navy ship that docked in Eureka for a bit last week? She's back.
The U.S.S. Independence, a 420-foot helicopter carrier and combat ship, returned to Humboldt Bay on Tuesday night and pulled back up to the Schneider Dock, where it refueled and picked up a spare part to fix one of its "three or four engines," according to Humboldt Bay Harbor, Conservation and Recreation District CEO Jack Crider.
The ship is reportedly doing some tests and trials in the area and will likely be heading back out to the open water some time Wednesday, Crider said. But, if you missed the sight of a gigantic warship in the bay, don't worry, Crider said the Independence will likely return Friday for another fuel stop.
For a look at the Independence in action, complete with some dramatic theme music, check out this
video
.