On the cusp of the Wiyot Tribe's first World Renewal Ceremony since the last one, in February 1860, was cut short after white settlers massacred as many as 100 tribe members as they slept on Indian Island, the City of Eureka has voted to send the tribe an official letter of … well, it started out as "apology" but later morphed into "support."
Apparently, in the hours before the draft letter went to a vote before the council last night, legal eyes latched onto the first draft and spotted language that some council members
told the Times-Standard
presented potential liability concerns.
Some of the language eviscerated from the first draft (sent to the press on Monday) includes "citizens of Eureka participated in" and "massacre" and "formal apology" and "forever be a scar on our history." The new draft, sent to the press Tuesday and voted in as the final version Tuesday night, is a somewhat stranded piece of work, afloat in oddly minimalist bureaucratese with no mention of who attacked the Wiyot nor of anyone's being sorry for it. Check them out yourself:
Draft No. 1: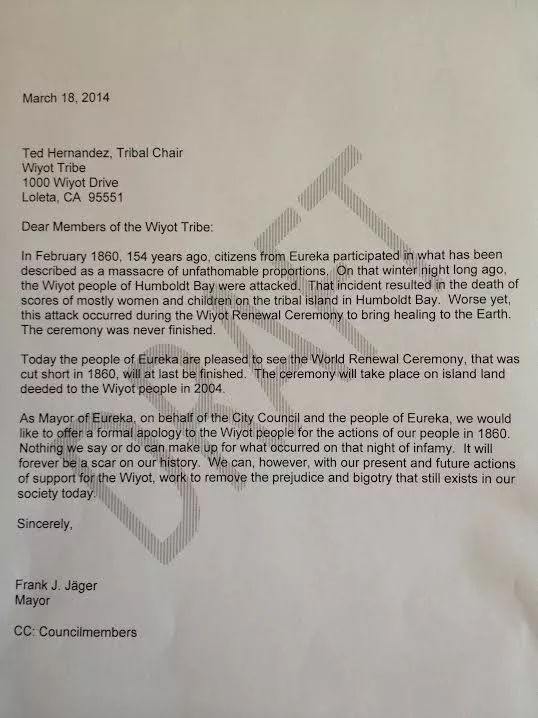 Draft No. 2:
It's a dramatic change, and we're not yet sure how necessary it was. That said, the sincere feelings that presumably drove the drafting of the letter in the first place likely remain in certain civic hearts. And the support mentioned in the second draft will have to suffice, as the Wiyot embark on the next, momentous chapter of their story: Next week, beginning Friday, they will indeed dance again on Indian Island, as well as at other sites where their ancestors lived (and were massacred).
A note about that: Contrary to what has been reported elsewhere, this year's World Renewal Ceremony is not necessarily intended "to finish" that interrupted 1860 ceremony, say tribe members.
"It ended in 1860," Seidner says. "Whether it was completed or not, it's gone. We can't pick it up because we can't know what they were doing 154 years ago. … So now we are going to start afresh."
With tradition resumed, the tribe plans to hold the ceremony every year hence, just as it used to before the massacre.
To read more about the tribe's journey to this moment, see this week's cover story in the
North Coast Journal
— on the street today and online tomorrow. You can also watch a video on our site of Wiyot and other folks hooking eels at the mouth of the Eel River, and see a slideshow of the cleanup at Tuluwat, on Indian Island, where 120-plus years of post-Wiyot use left a torn-up, toxic-waste dump.