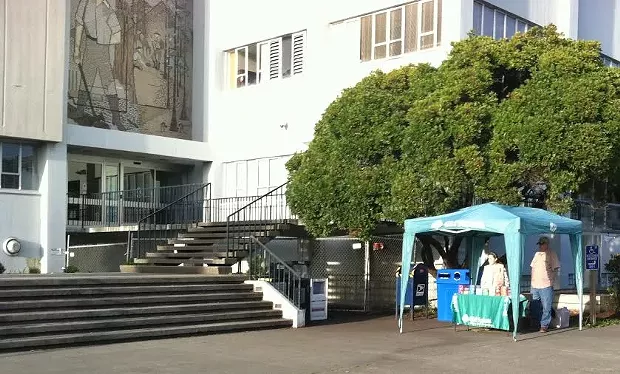 Photo by Grant Scott-Goforth
Girls Scouts in front of the Humboldt County Courthouse
Hear that huge sigh of relief among cookie-sellers, campaigners, protesters and others wanting to exercise their free speech and sugar-peddling rights over at the swell outdoor digs of the county courthouse?
Soon, they'll no longer be scofflaws when they stake out their awnings on those public premises: Tuesday, the Humboldt County Board of Supervisors voted to chuck the ordinance it passed in 2012 to rid the courthouse lawn of a sprawling Occupy Eureka encampment that the city said threatened the health and safety of the community, in particular folks with business inside the courthouse.
Ordinance 2488
prohibits people from camping on the courthouse grounds, storing personal stuff there, setting up camping gear, securing anything to county property (including signs), littering, damaging county property including the plants, obstructing the flow of pedestrians and having animals on the loose (not counting service animals). It specifically prohibits erecting any building or structure, whether permanent or temporary, including an awning, windbreak and, of course, tent. (An earlier version, Ordinance 2477, was stricter, banning assembly between 9:30 p.m. to 6:30 a.m., and not allowing the use of tables.)
The ordinance went too far in some instances, and in others it merely repeated laws already on the books, critics said. Its chief critic, the Human Rights Commission, has spent the past year and some reviewing the ordinance and
hammering the board to repeal it
.
Nezzie Wade, vice chair of the commission, says the board acted wisely.
"There was no need for an ordinance, and the human rights commission rightly established that the problems that were there could have been handled by communication, education and accommodation," Wade says.
Actually, the campaigners and cookie-sellers probably don't know they've been breaking the law. Wade says law enforcement has not been enforcing the ordinance. And that, she says, has cast a "false view on the controversy," as Girl Scouts, and campaigners including Virginia Bass, have propped awnings over their tables.
County staff now has to write up a new ordinance repealing the old one, and a policy statement outlining the existing laws covering county concerns about courthouse grounds usage.