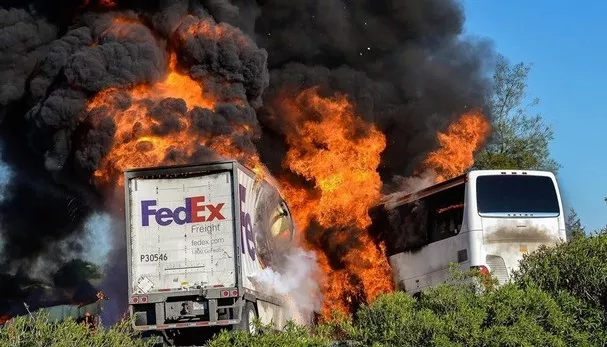 Jeremy Lockett/J. Lockett Photography
Photographer Jeremy Lockett, of Red Bluff, was driving to Orland when he came across the fiery scene of the accident and caught this image.
Humboldt State University has
confirmed
that Admissions Counselor Arthur Arzola was among the 10 people dead after a bus crash outside of Sacramento Thursday afternoon.
Arzola, a regional recruiter based in the Los Angeles area, was accompanying a bus full of high school students up to Arcata to attend HSU's Spring Preview event for prospective students. According to a report in the Sacramento Bee, many of the high-schoolers on the bus were first-generation college students, with many coming from low-income families.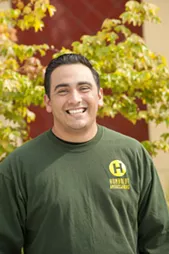 Humboldt State University
HSU issued a brief statement this morning about Arzola, saying he is remembered by colleagues for his "passionate commitment to helping low-income and first-generation students get to college.
"He dedicated his career to that work," the statement continued. "The campus community extends its deepest condolences to Arthur's family and friends. Words cannot express our sadness, and we are here to support the in any way possible."
Meanwhile, the Sacramento Bee
reports
HSU President Rollin Richmond is down south visiting students involved in the crash in area hospitals to comfort them and their families, telling them the school will arrange for students to visit campus when they are feeling better. "We will arrange for them to get to Humboldt in ways that don't involve a bus," Richmond told the Bee.
According to reports, the crash occurred at about 5:40 p.m. when a FedEx semi traveling south on I-5 in Orland swerved to avoid another car, lost control and crossed over the center divide, colliding head-on with the tour bus loaded with about 50 prospective HSU students. Numerous news reports quote first responders expressing surprised that anyone made it off the bus alive.
In a brief
bio
on the HSU admissions page, Arzola described himself as hard-working, thoughtful, compassionate and friendly, saying he likes "hanging out at the beach and walking around Arcata to eat at all of the local restaurants."