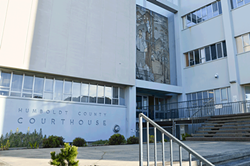 The Humboldt County Superior Court has completed a review of its policies and procedures governing the unsealing of a defendant's prior probation reports when they are charged with a new crime. Court CEO Kerri Keenan said today that judges and court staff are all in agreement that, under the law, the court should make a defendant's prior reports public if the defendant is charged with a new criminal complaint.
"We're working on a procedure right now, but they'll be made available upon request, without submitting a letter or any petition to the court," Keenan said.
California law holds that a defendant's probation reports filed with the court should be made available to the public for 60 days from the time the defendant is sentenced in the case, at which point they are sealed. However, the law includes a provision that the documents should be unsealed in the event that a defendant is charged with a new crime.
Historically, the Humboldt County Superior Court has made the documents available for the initial 60-day window but maintained they were not open to the public after that, regardless of whether a defendant faced a new criminal charge. The court's policy change comes on the heels of the
Journal's
push to gain access to the documents, which began shortly after the New Year's Day slaying of St. Bernard's Parrish Pastor Father Eric Freed.
Check past
coverage
for more information on the documents and the
Journal
's efforts to have them unsealed.