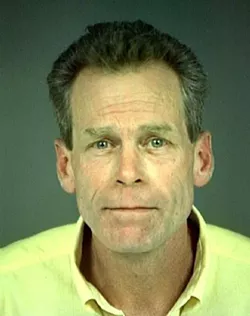 The man accused of shooting a sheriff's deputy in Shelter Cove on Tuesday was arrested early this morning at the property where the shootout occurred. The deputy has been released from the hospital.
Sheriff's office press release:
On 05-07-2014, at approximately 3:30 a.m., 55 year old William Lloyd Nelson, was taken into custody at the Kelly Lane property. Nelson was arrested for attempted murder of a police officer and using a firearm in the commission of a felony. Nelson was not injured. He was transported to the Humboldt County Correctional Facility where he was booked. His bail was set at two million dollars.

A Humboldt County Superior Court Search Warrant was obtained and served on the Kelly road residence and property. The Humboldt County Critical Incident Response Team, consisting of Humboldt County Sheriff's Detectives, California Department of Justice, Humboldt County District Attorney's Investigators, Eureka Police Detectives and Arcata Police Detectives are still on scene continuing with the investigation.

The deputy who was shot has been released from the hospital and is recovering from his injuries.

Humboldt County Sheriff Michael Downey will be holding a news conference to further discuss the incident at 2 p.m. today, 05-07-2014, in the Humboldt County Correctional Facility Conference room.


PREVIOUSLY
A Humboldt County Sheriff's Deputy was shot in the chest today while serving an eviction notice in Shelter Cove, but is expected expected to survive thanks to his bullet-proof vest.
The deputy and his partner returned fire at the suspect as they fled the residence, but it is unknown whether they hit the suspect, who has been identified as 55-year-old William Lloyd Nelson. Sheriff's Lt. Steve Knight said the wounded deputy was transported to a local hospital where he is being checked out. "If the vest wasn't on, it sounds like he wouldn't be with us," Knight said. "It would have been bad."
The Sheriff's Office SWAT and Critical Incident Response teams are currently staging in the area, Knight said, with crisis negotiators and mental health professionals standing by. Knight said he doesn't know if the teams have attempted to make contact with the suspect as of yet.
It's believed the suspect is alone in the residence, Knight said, but that has yet to be confirmed, as officers' immediate concern was retreating to safety and then securing the surrounding area.
Nelson was arrested in 2009 after he allegedly shot a high-powered rifle at a radio tower in Shelter Cove, causing an estimated $100,000 in damage. Police reported recovering some 25 shell casings from the scene, according to a report in the
Redwood Times,
which also notes that Nelson was on probation at the time.
In May 2011, Nelson was sentenced to serve 336 days in county jail, three years in prison and three years probation after being convicted of felony vandalism, shooting at an unoccupied vehicle, discharging a firearm in a negligent manner and possessing a firearm within 10 years of a felony conviction.
Read the full Sheriff's Office press release below:
On 05-06-2014, at approximately 2:45 p.m., a Humboldt County Sheriff's Deputy and a Sergeant arrived at a residence on Kelly Lane, Shelter Cove to serve a court order civil eviction. When deputies arrived at the residence the suspect and homeowner, who has been identified as William Lloyd Nelson, 55 years old, shot at the officers with a firearm. Nelson shot one of the deputies in the chest. Both deputies returned fire while fleeing from the residence. It is unknown whether the deputies struck Nelson when they returned fire. The deputies immediately radioed for assistance.

Additional deputies, California Highway Patrol Officers (C.H.P.), the Humboldt County Sheriff's Office S.W.A.T. Team, the Humboldt County Sheriff's Office Crisis Response Team (Negotiators) and medical personnel responded to the scene. The Humboldt County Critical Incident Response Team (C.I.R.T) was activated and also responded to the scene to assist. The C.I.R.T. consists of investigators from local law enforcement agencies.

The deputy who was shot was airlifted by a California Highway Patrol Helicopter to a local hospital. The deputy's ballistic vest is credited with saving his life.

Residents in the area have been asked to shelter in place. Reverse 911 was initiated to area residences.

Shelter Cove Road at Willow Glenn, and Shelter Cove Road at Toth Road are both closed at this time. Nelsons condition and location is unknown at this time. He is believed to be in the residence.

William Lloyd Nelson is described as 55 years old, white male, 6'0" tall, 165 lbs, blue eyes, blondish strawberry colored hair.

The investigation is continuing.