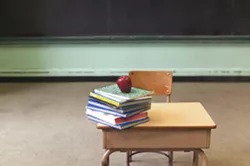 The Del Norte County Unified School District Board voted unanimously this week to extend its settlement agreement with the American Civil Liberties Union of Northern California, which stemmed from a lawsuit brought against the district alleging a pattern of racial discrimination against Native American students.
The district has made progress under the settlement agreement adopted in 2009, all sides agree, working to develop and implement curriculum teaching the history of the Yurok Tribe, forming the American Indian Education Advisory Council and reducing the numbers of suspensions and expulsions. Additionally, the district has largely complied with the terms of a monitoring program put in place with the settlement.
However, there's more work to be done. From the board's
staff report
: "The district has been unable to fully develop, implement and monitor the implementation of curricula that teaches about the history and culture of the Yurok Tribe for grades 5, 8, 11 and 12. Despite the reduction in suspensions and expulsions, more could be done, including continuing to reduce all forms of exclusionary discipline and reducing the racial disparities in that exclusionary discipline."
The vote extends the settlement agreement through August 2017.
"By extending our agreement, district officials have strengthened their commitment to ensuring in future years that Native American students have equal opportunities to achieve education success," Jory Steele, managing attorney and director of education equity for the ACLU of Northern California, said in a press release. "We are confident that the district, along with community members and tribal leaders, will improve the educational outcomes for all the district's students."
It's likely administrators in Eureka are keeping a close eye on the situation in Del Norte as the ACLU brought a federal civil rights
lawsuit
against the Eureka City Schools District in December, alleging that Native American and black students are subjected to unchecked, systemic racial and sexual discrimination from students and staff and that minority students suffer unequal discipline. You can read more about the case against Eureka City Schools
here
.