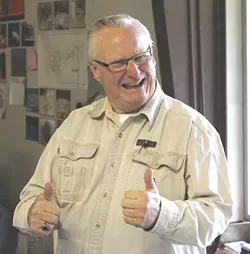 Two Rivers Tribune
Steve Paine
Humboldt County has a new planning commissioner.
This morning, 5th District Supervisor Ryan Sundberg advised the board that he has appointed former long-time Willow Creek Community Services District Manager Steve Paine to the county planning commission to fill the post vacated by his last appointee, Susan Masten, who has resigned after serving for three years.
Journal
attempts today to contact Masten and Sundberg to learn the reason for Masten's resignation have been unsuccessful. However, Paine said Masten has recently accepted the "tremendous commitment" to serve as the Yurok Tribe's vice chair and felt she was too busy to fulfill her duties to the commission, noting that Masten has been unable to attend several recent meetings.
Paine, who served as the WCCSD director from 1999 to 2004 and its manager from 2004 until his retirement in October, said Sundberg contacted him about the appointment some time ago. Initially, Paine said he was reticent to step forward and instead offered Sundberg a few other suggestions. But he said the supervisor came back and asked: "'Can you do this for now, Steve?' And, I said, 'Certainly.'"
Paine said he was leery of stepping into the world of controversial planning politics, but ultimately decided to do it to serve his community and give Willow Creek a voice on the commission. "I feel like if there's anyone who can represent Willow Creek, it's probably me," he said, noting his long tenure with the WCCSD, his multiple stints as president of the area's Lions and Kiwanis club and his current roles as director of both the local fire safe council and fire district.
But Paine said the new position will be a bit of a paradigm shift for him. "My job for the last decade has been to keep a board informed and make sure they make good decisions, and now I'm going to be sitting on a board," he said. Over the years, Paine said he's tried to help WCCSD board members work toward consensus, encouraging them to set aside differences and find pieces of middle ground all could live with. He said he'll try to carry that mind set to the planning commission, which has recently been a contentious battle ground for a number of politically divisive issues, including the county General Plan Update and a long-awaited medical marijuana growing ordinance.
Asked if he views his appointment as a temporary position, Paine chuckled and said he'll have to see how things go. "Much like my last job, I told my wife that if it gets political or difficult or becomes something where I come home and don't have a smile on my face, then we'll look at doing something else," he said.
Masten's resignation and Paine's subsequent appointment continue a spate of turnover on the commission in recent years. With the exception of Commissioner Dave Edmonds, an at large appointee who joined the commission in 2011, all the current commissioners been appointed since January 2013, with three signing on in the last four months.
So, what's the first order of business for Paine and the new commission? Coming up with a recommendation for the board on the county's long-in-the-works outdoor medical marijuana growing ordinance at the commission's Thursday meeting. Today, the board voted unanimously to send the commission a relatively sternly worded letter asking the commission, which has repeatedly asked for more time and additional public meetings on the ordinance, to make a recommendation — whether it be approval, denial or approval with modifications — on the ordinance by the end of Thursday's meeting.