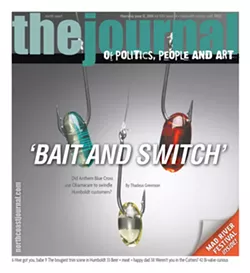 Regulators have launched an investigation into whether Anthem Blue Cross and Blue Shield of California violated state law by misleading consumers with inaccurate provider lists, the
Los Angeles Times
is reporting this morning.
The California Department of Managed Care has begun a review looking into provider access issues with the two insurance giants' plans offered under Covered California, the state insurance exchange set up under the Affordable Care Act. "Our preliminary investigation gave us good cause to believe there are violations of the law," agency spokeswoman Marta Green told the
Times
.
According to the report, the department is expected to wrap its investigation within 60 days after which the companies will have 45 days to respond to its findings.
The
Journal
covered issues with Anthem Blue Cross' flawed in-network provider lists in Humboldt County in our June 12 cover story, "
Bait and Switch
," and followed up with a guest views piece in the June 19 edition, "
The Insurance Leech
," in which local physician Emily Dalton shares her frustrations. The full
Los Angeles Times
story can be found
here
.