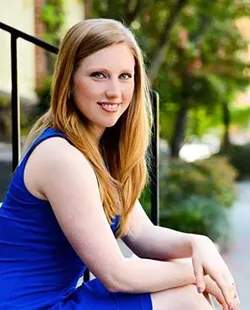 Photo courtesy Kathryn Faull for Miss California Facebook page
Kathryn Faull
Tonight, at the William Saroyan Theatre in toasty downtown Fresno, the winner of this year's Miss California pageant will be crowned after a buoyant Broadway-themed spectacular. And among the 54 contending young women is one of our own: Humboldt State University kinesiology student Kathryn Faull, Miss Central California Regional 2014. If she wins, she competes in the Miss America contest in September.
Faull's actually a Stockton native, but she's at HSU now. And while — hold on, now, all you pageant haters, let me finish. And while (judging by
her Facebook page
), Faull seems as bubbly, girly and polished as any self-respecting pageant
lover
could hope, she's no flibbertigibbet. In fact, it's doubtful anyone too flighty could rise this high in the contest. They're competing for higher education scholarships, for one, and that's what drew in Faull, according to
a quote in The Fresno Bee
:
"'As a child, I swore that I would never be a pageant girl,' Faull said. 'However, when I knew I would be attending Humboldt State, I knew I needed scholarships.'"
Each contestant has to raise money, in part for those scholarships. Last year, according to the
Miss America Organization
, it and its state and local organizations gave out $45 million in cash and scholarships, "making it the world's largest single source of scholarships for women." Within that, the Miss California scholarship stash is the largest.
The contestants also raise money for the Children's Miracle Networks hospitals and the winner commits to spending time hanging out with those hospitalized kids. And, contestants have to demonstrate a specific talent and survive tough-question interviews — Faull, on her Facebook page, said she strutted her stuff (tap dancing) and that she aced one on-stage question in particular: "It was in regards to the Affordable Care Act and I know just how I feel about it!" (She doesn't elucidate.)
Sure, the women also must shine in a bathing suit and evening gown, but those get-ups simply show off how serious they are about fitness. We're talking role models, here. Certainly personality counts, but it's not quite like the early days of the Miss America Pageant — to which all regional and state contests lead — when the women donned bathing suits and talked pretty so that
a bunch of East Coast newspapermen
could boost their papers' circulations (according to missamerica.org).
Ahem. Well, that's something.
UPDATE: And the winner is: Miss Yosemite Valley Marina Inserra.