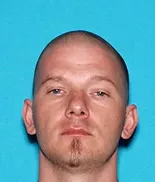 The Humboldt County Sheriff's Office has identified the victim in a homicide Friday night as 49-year-old Neil Eugene Decker, of Alderpoint, and suspect his killer was 30-year-old Matthew Aaron Brown, who remains on the loose and should be considered armed and dangerous.
Deputies responded to a call shortly before 11 p.m. Friday to the Alderpoint area to find Decker suffering from a gunshot wound to the chest. He died while waiting for a a helicopter that was coming to take him to the hospital.
The sheriff's office reports that this is the third homicide in the Rancho Sequoia area of Alderpoint, an area infamously dubbed "murder mountain," in the last two years.
Brown was last seen riding a green motorcycle and the sheriff's office asks that anyone with information about his whereabouts call 445-7251 or the department's crime tip line at 268-2539. If someone sees Decker, the sheriff's office urges not to approach the man and to instead call 911.
See the full press release from the sheriff's office below for more details:
UPDATE

The victim in the homicide has been identified as Neil Eugene Decker age 49 from Alderpoint. The suspect has been identified as Matthew Aaron Brown age 30. Brown is described as a white, male adult, 5'-11" in height, weight 200 pounds, with a shaved head and blue eyes.

The homicide occurred in the 2000 block of Rancho Sequoia near Alderpoint. The victim and suspect were acquainted with each other. They got into a verbal argument over personal property on Friday night before the shooting. Shortly after the argument the suspect shot the victim in the chest with a shotgun. The suspect then fled the area on a green motorcycle.

The Sheriff's Office has issued an alert to other local law enforcement agencies to arrest Brown for homicide. The Sheriff's Office considers Brown to be armed and dangerous. The Sheriff's Office is advising the public is they see Matthew Brown to call 9-1-1 and do not approach him.

This homicide is the third homicide in the Rancho Sequoia area of Alderpoint in the last 24 months.

Anyone with information for the Sheriff's Office regarding this case is encouraged to call the Sheriff's Office at 707-445-7251 or the Sheriff's Office Tip line at 707-268-2539.

ORIGINAL RELEASE

On 07/18/2014 at approximately 10:51 PM, the Humboldt County Sheriff's Office received a call regarding a male subject in his fifties that was shot in the chest. The shooting occurred in the Alderpoint area of Southern Humboldt. Deputies responded with assistance from the California Highway Patrol and the Mendocino County Sheriff's Office. Medical personnel arrived on scene and began life saving efforts. The victim was transported to a landing zone to be flown out by helicopter. The victim succumbed to his injury prior to being transported by helicopter.

The whereabouts of the suspect involved in the shooting is unknown at this time. This incident is currently being investigated by Detectives with the Humboldt County Sheriff's Office and personnel from the Department of Justice.

Anyone with information for the Sheriff's Office regarding this case or related criminal activity is encouraged to call the Sheriff's Office at 707-445-7251 or the Sheriff's Office Crime Tip line at
707-268-2539.
Mike Downey
Sheriff