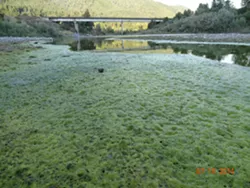 Viv Orcutt
The Trinity River looking bleak this summer.
An appeal from the Hoopa Tribe for more water down the Trinity River yielded no increase, as the Secretary of the Interior announced this week that extra flows, requested to prevent a potential fish kill on the Klamath, would not be released.
Mike Orcutt, Fisheries Director for the Hoopa Tribe, was in Washington, D.C. last week to call for extra water. Orcutt and fisheries biologists fear that the extreme drought year and water allocations to the Sacramento River could lead to the same conditions that resulted in the deaths of thousands of fish in
2002
.
Last year, several Central Valley contractors sued to stop a release of water down the Trinity around the same time, but a Federal Judge in Fresno allowed the
flow
. But this year, following a
visit
by President Obama to the Central Valley in February, Orcutt said the Bureau of Reclamation "bowed to political pressure."
"We think it is irresponsible," he said, "a disservice to the trust responsibilities to tribes."
While Reclamation will release water in the event of a confirmed fish kill, Orcutt said that will be too late. He said biologists are already observing stress signs among fish in the Lower Klamath.
Reclamation, for its part, has said
not enough water remains
in the Trinity River reservoirs to increase flows down the Trinity and that the water pumped into the Sacramento River is being used to cool water and protect fisheries there.
North Coast Congressman Jared Huffman penned a letter in response to Reclamation's decision, saying it "is the latest example of how the federal government fails to plan for drought to the detriment of tribes, fishermen, and the environment."
"By state law, Trinity River salmon — which begin their upstream migration in the Klamath River — must be protected before water is used to bail out the Central Valley Project," the letter continued. "When you find yourself in a hole, you're supposed to stop digging, but Reclamation has dug itself a hole it cannot get out of, and tribes and fishermen may once again pay the price."
(Perhaps that curious
whale yesterday
was drawing attention to the plight of the downstream salmon?)