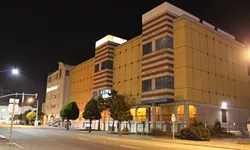 Nearly four years after charges were filed — and two years after being sentenced to 180 days in jail for a nearly half-million-dollar embezzlement — Jeffrey Harry Lang began serving his sentence this week.
Technically, Lang, who pleaded guilty to one count of felony embezzlement in January 2012, served one day in jail immediately following his sentencing, which included five years' probation in addition to the jail term. It's unclear exactly why he was subsequently released, though Bruce McFarland — the owner of Adcom which was among those bilked by Lang and his partner Marcie Perkins Wright (the
Journal
was also a victim of the scheme) — suspects it's because Lang's sentencing came right at the time when the state's prison realignment program put pressure on county jails.
With Lang's guilty plea, prosecutors dropped additional charges of conspiracy and forgery. In court documents, Lang, who was working as an advertising sale representative, and Wright, who was Adcom's office manager, were accused of forging checks, maxing out company credit cards and transferring money from company accounts into their own. Lang was also accused of convincing a client to write a check in his name, rather than the ad agency.
McFarland has been frustrated by the pacing and unknowns of Lang's sentence. "That's great to actually hear he's behind bars," McFarland said. "I saw him cuffed in the courthouse [two years ago] and be led off and thought 'OK, he's going to jail.'"
It's unclear why Lang spent the next two and a half years out of custody, or why, recently, he began to serve several days with the Sheriff's Work Alternative Program.
Then, Thursday, Lang turned himself over to the county jail to serve the rest of his sentence behind bars. According to Sheriff's Lt. Dean Flint, Lang has 178 days left to serve on his sentence — though he said it's possible that Lang served several days working for SWAP that hasn't been credited to his time served yet.
UPDATE: Lang re-qualified for SWAP (he apparently was asked to turn himself into jail on a clerical error) and was released from custody on Aug. 11, according to Flint. He has 67 days left to serve on the work alternative program.
Flint said that people who begin with SWAP — often working on the county's wood cutting yard — occasionally can't, or decide not to, finish the program, forcing them to serve the rest of their time in jail. It's unclear if leaving SWAP was Lang's choice, or, perhaps, due to an injury or other condition that would prevent him from continuing to work off his sentence, Flint said.

McFarland is frustrated by his inability to get information about the case. Lang has been ordered to pay restitution to McFarland, though McFarland says it will take hundreds of years to reach the court-ordered total of $160,000 at the current reimbursement rate.
"What people don't realize is what's going on in this county," McFarland said. "People don't realize that there's no consequences. To be able to walk away with close to half million dollars in damage … there is not any type of sensible sentencing going on."
Read the
Journal'
s coverage of the beginning of the case
here
.