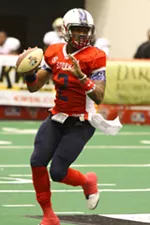 Did you know a Humboldt State University alum recently hung up his cleats a five-time champion regarded as the best quarterback in his league's history? No? Well, that's probably because the league in question is the somewhat obscure Indoor Football League.
Chris Dixon, an Oakland native who led the Lumberjacks to an 8-12 record in two years as a starter in 2003 and 2004, announced his retirement from the Indoor Football League last month. About a week later, the IFL's expansion franchise, the Billings Wolves,
tapped
Dixon to become their next head coach.
For those unfamiliar with the IFL, Dixon is something of a big deal, having thrown for more than 25,000 yards and 600 touchdowns in his eight-year career, which saw him win five championships and take home three MVP trophies. Word that Dixon was returning to the Sioux Falls Storm earlier this year to finish up his career was met with unabashed revelry, with one story on
examiner.com
saying it was the football gods' answer to fans' prayers and referencing Dixon as "perhaps the most electrifying and prolific quarterback to ever wear a jersey in the IFL." If you find yourself skeptical of that statement, check out the following highlight reel, which is complete with a host of touchdowns, trash talking and one line dance with cheerleaders.
Despite limited team success, Dixon posted a solid career at HSU, one that earned him all-conference honors in 2004 and a spot in HSU's
record book
for most completions in a game (41, against Southern Oregon in 2003). But Dixon went undrafted by the National Football League and failed to catch on with a team, leading him to his storied IFL career.
Dixon's IFL resume is so impressive, in fact, that it begs the question of whether he's had the best pro sports career of anyone with Humboldt ties? Sure, Rey Maualuga and John Jaso have reached the pinnacles of their respective sports but neither has been called the most electrifying to don a jersey. If you're looking at stats and wins as a means of comparison, you might have to drift to another slightly obscure sport to find a parallel to Dixon's success: professional bowling.
Walter Ray Williams Jr.
, born in 1959 in Eureka, currently holds the all-time standard Professional Bowlers Association record for career titles (47) and total earnings ($4.4 million!), and remains active on the tour. And, if that doesn't impress you, consider that Williams is also a nine-time world champion in the game of horseshoes.
If you know a Humboldtian with a more impressive sports resume than either Williams or Dixon, let's hear it: Post a name in the comments section and let the debate begin.