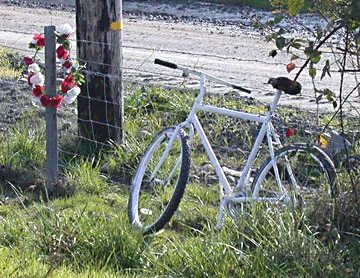 Photo by Heidi Walters
The "ghost bike" installed in 2008 on the side of State Route 299 where cyclist Greg Jennings was killed by a car that traveled onto the shoulder where he was riding.
Bill Burton, who founded Arcata's Library Bike nonprofit and is director of
LibraryBikes.org
(think: checking out a bike like a book), sent a happy but poignant note to the press today noting that the new Three Feet for Safety law goes into effect today, Sept. 16.
The law requires drivers to give bicyclists traveling in the same direction three feet of clearance when passing. If it isn't possible (or safe) to pass a bicycle giving it three feet clearance, the law demands that the vehicle driver slow down and only pass when it is possible and safe to. Violation of the rule brings a $35 fine — and $220 if a driver hits and hurts a cyclist while violating the rule.
Burton, who wrote the early versions of the bill and lobbied heavily for it, said the law contains "many compromises … [but] nevertheless today we get a good safe law initiated." He said the law might reduce cyclist deaths by about half in California. (The California Department of Motor Vehicles estimates more than 100 cyclists are killed and hundreds of thousands hurt in bicycle collisions each year.) Burton listed some of his friends who died while bicycling when a vehicle violated their space and hit them, including
Greg Jennings
, hit on State Route 299 on his way home to Blue Lake from work in Arcata, and
John Mello
of McKinleyville who was hit on U.S. 101 near Trinidad.
For details on the new rule and other rules of the road, check out the DMV's
website
.
For more on the curious second life of the Arcata Bike Library, check out
this story
in the
Flapjack Chronicle,
a news magazine produced by Humboldt State University journalism students.