Photo courtesy Brenda Harper, North Coast Co-op team
Mannequin butt
September is when our good citizens' tidy-cat impulses really kick in and hundreds voluntarily patrol the shores of our rivers, bay, sloughs, marshes and ocean to clean up after those sloppy, ill-behaved "others."
You know, the ones who think it's perfectly fine to drop their cigarette butts anywherever (if only we could divert street-drain flows into their bedrooms and kitchens, instead of into the homes of our river and ocean friends); to abandon the butt of a poor manikin in Mad River Slough (wrong in so many ways); to throw trash into anything but the receptacles made for trash; to pollute the bushes with mattresses, shopping carts, clothes and other crap; to cut down billboards but leave the eyesores where they've fallen; and to drag dead appliances and such into pretty outdoor settings to blast away at (leaving the spent shells and holey carcasses behind, grubby rats).
But back to the good citizens. Earlier this month, folks swarmed the Eel River in at least two cleanups — one organized by the Lost Coast 4x4s club down near Fernbridge (its 15th annual), the other by the Rio Dell and Scotia Chamber of Commerce (its first annual). They scraped up and hauled away thousands of pounds of garbage. And this past Saturday, as part of International Cleanup Day (and California's 30th annual Coastal Cleanup Day), around 1,000 volunteers at 70 Humboldt County locations, likewise picked up after others.
Journal
freelancer Jennifer Savage, who works for local cleanup coordinator Northcoast Environmental Center, says the cleanup day is the world's largest single-day volunteer effort. In California alone, according to preliminary numbers from the California Coastal Commission, more than 54,000 volunteers at more than 850 sites picked up more than 576,000 pounds of trash.
"Data collected during the event is used to establish most-littered items, change individual consumption habits and advocate for policies aimed at stopping trash at the source — such as California's pending single-use plastic bag ban," Savage says.
She shares these highlights of our local cleanup:
Longtime volunteer John Shelter and his crew collected more than 13 shopping carts full of trash from Palco Marsh — about 3,500 pounds of garbage.

Pam Halstead's Fortuna Union High School environmental studies students collected 3,000 cigarette butts from the Riverwalk's edges.

A Northcoast Environmental Center-led team removed two fallen billboards from public trust Humboldt Bay wetlands alongside U.S. Highway 101.

The North Coast Co-op-led team scoured Mad River Slough, where among other junk it found the lower part of a surprisingly anatomically correct mannequin.

Photo courtesy John Shelter
Palco Marsh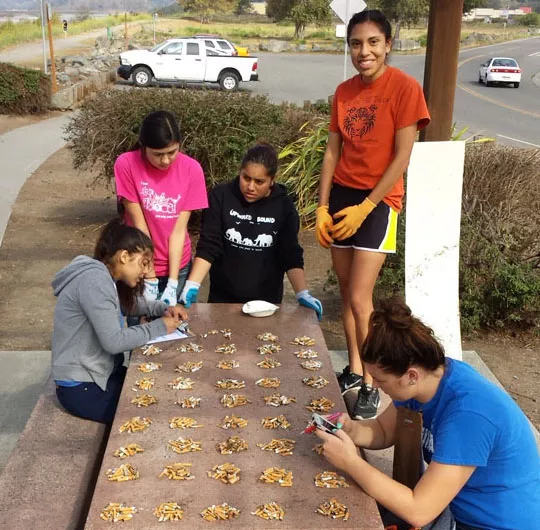 Photo courtesy Pam Halstead
FUHS APES team counting cigarette butts.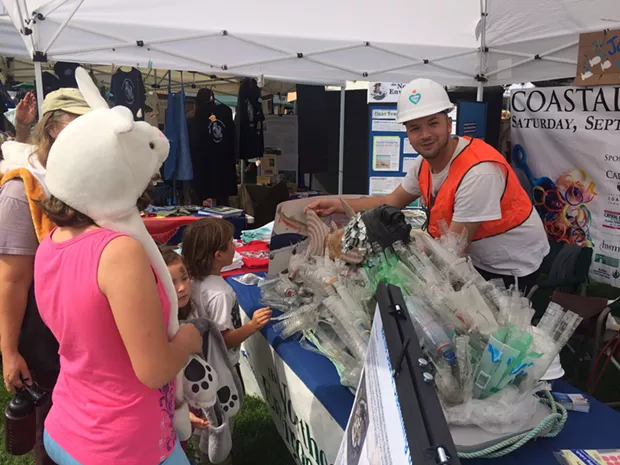 Photo by Jennifer Savage
NEC booth.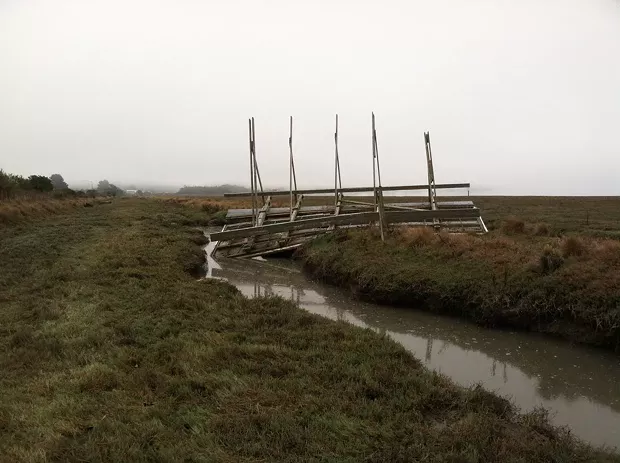 Photo courtesy Northcoast Environmental Center
Before billboard removal.
Photo courtesy Northcoast Environmental Center
During billboard removal.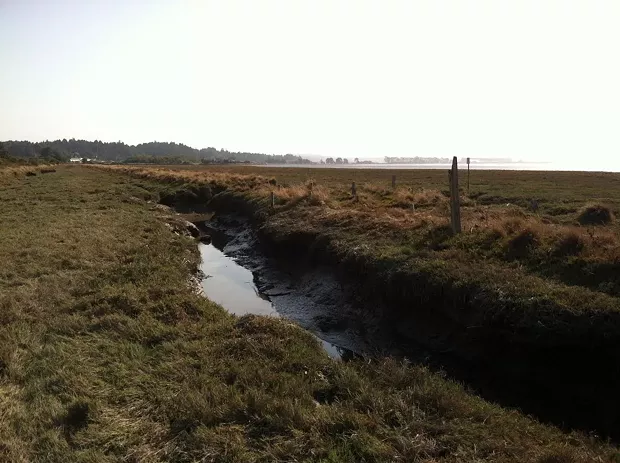 Photo courtesy Northcoast Environmental Center
After billboard removal.