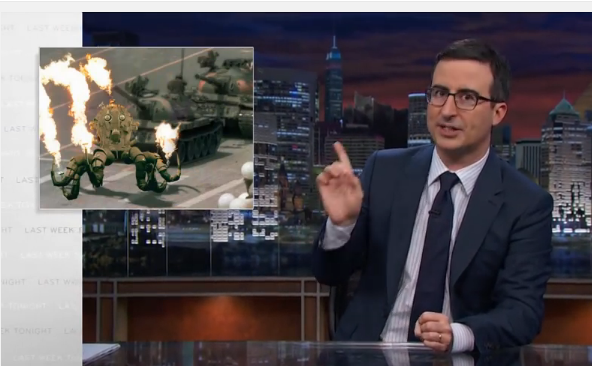 Humboldt County's most famous flaming octopus has fully arrived on the national stage.
El Pulpo Mecanico, the brainchild of Kinetic hall-of-famer Duane Flatmo, has for years been appearing at Burning Man, an arts festival in the Nevada desert, and has become a favorite of its cult-like following. But now, the fire spewing machine is going mainstream.
First, the newly dubbed "pyropus" made an unexpected appearance on former
Daily Show
correspondent John Oliver's HBO show,
Last Week Tonight
. (The appearance comes toward the end of the two minute
segment
, but is worth the wait.)
But that's just the beginning, as Flatmo's tentacled friend is due to be featured on a Burning Man themed episode of
The Simpsons
on Nov. 16, when some three million viewers will watch Bart, Homer and company party on the playa. Flatmo said he was touring El Pulpo around Burning Man when he ran into a lawyer-type who told him
Simpsons
Director David Silverman was at a nearby camp and wanted to meet him. Turns out Silverman is a big-time Burner, known for strolling around playing a flaming tuba. Obviously, the two hit it off.
Silverman got Flatmo to sign a release and the local artist says the
Simpsons
folks have since been in touch, even passing on a few confidential mock ups of what El Pulpo might look like Simpsonified, and have told him the machine will be a focal point of the episode. Exciting stuff. If you need something to tide you over until November, check out the following video and imagine what it might look like in yellow, cartoon form.