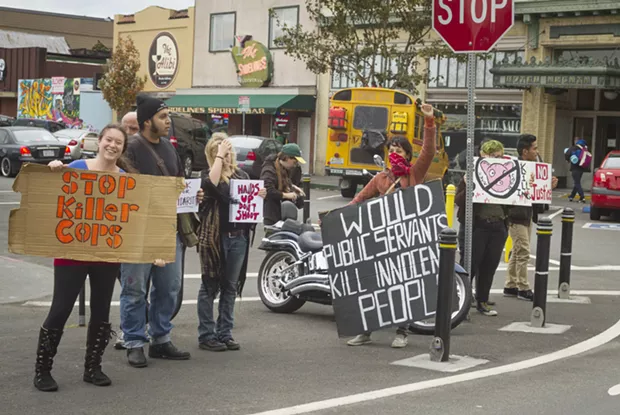 Patrick Evans
Protesters wave signs at the intersection of Ninth and G streets in Arcata on Oct. 18.
As protesters march and rally across the nation in solidarity with Ferguson, Missouri, about 20 people gathered in the Arcata plaza last week to protest police brutality. They held signs and demanded an investigation into the Sept. 18 killing of 22-year-old Thomas "Tommy" McClain by a Eureka police officer.
McClain was shot when Eureka police involved in an unrelated surveillance operation confronted him in his cousin's front yard in Eureka. According to the Eureka Police Department, officers feared McClain was armed and waiting to continue a confrontation he'd had with a man in his neighborhood minutes before. McClain had a BB gun, which officers thought was a real handgun, tucked into the waist band of his pants. Eureka police chief Andy Mills said at a recent press conference that the shooting appears justified, and occurred when officers saw McClain reach for the gun, ignoring police orders to keep his hands up.
The rally was part of Days of Action against Police Brutality, a national week of protest held annually for the past 19 years. Redwood Curtain CopWatch, a Eureka-based group that monitors local law enforcement agencies, organized the local event.
Humboldt State University sociology graduate Kelsey Reedy, 23, said she was at the Arcata protest on Oct. 22 because she thought local police are allowed to get away with mistreating and harming civilians.
"We shouldn't be afraid of them, we shouldn't need protection from the police," she said
Reedy waved a cardboard sign at passing cars that read "stop killer cops," and some drivers honked or shouted in support as they passed. She said the shooting of McClain made her look critically at police in Humboldt. "I thought we were above that here, I thought we held our cops at a higher standard," she said. "It's time to hold the police accountable."
Frank Ontiveros, 23, a literature major at Humboldt State, said many of his fellow protesters were demanding answers about the shooting. Ontiveros' sign said "hands up," a phrase made popular by protesters in Ferguson.
"I want to spread awareness about the problem [of police brutality] here in this area," Ontiveros said, adding that he feels like police officers are immune to the law. "Police brutality is way out of hand, it has always been a problem, but it has gotten to the point of zero accountability."
After the rally in the plaza, protesters bicycled and shared rides to get to Cesar Chavez Park in Eureka, where CopWatch held an all-night vigil for people who are homeless.
Organizer Angie Hart said the vigil provided a safe space for people who are homeless to hang out and have a meal. Hart said homelessness is criminalized, and police can give homeless people tickets for camping.
For dinner, CopWatch members cooked pasta, hot dogs and vegetables provided by local donors.
"We stayed out all night in the rain, under a big tarp." Hart said.
For breakfast the next morning the group went to the county courthouse in Eureka at 5 a.m. to serve hot tea and coffee to people being released from jail.
CopWatch organizer Sovryn Sabjen said the group plans to patrol Humboldt neighborhoods and record police actions. Volunteers will listen to radio scanners and follow police with cameras.
"We want [police] held to the same or higher standards as other citizens," Sabjen said.
"We want this killing of young people in our community to stop."
Attempts to reach Arcata Police Chief Tom Chapman for comment for this story were unsuccessful.
At the conclusion of a multi-agency investigation led by EPD, the Humboldt County District Attorney's Office will review the McClain shooting and determine if there's reason to believe officer Stephen Linfoot acted criminally when he shot McClain three times. Linfoot is currently on administrative leave from the department, pending the investigation's conclusion.