The Arcata Police Department sent out a sternly worded press release this afternoon warning that criminal Halloween tomfoolery will not be tolerated.
No doubt seeking to avoid a repeat of last year's scary plaza spooktacular — which saw 35 arrests, a man stabbed with a liquor bottle and a cop car mercilessly beaten by a man on mushrooms — APD's preemptive warning advises that a whole lot of cops will be on the plaza conducting "interactive patrols" Friday night and throughout the weekend to make sure order is maintained. "The APD encourages people to act responsibly, respect the community, designate a driver, and have responsible fun," the press release states.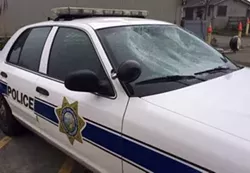 One of many Arcata Plaza Halloween victims over the years.
While that seems a simple request, history has shown it to be a bit of a Hail Mary, as the plaza-trashing debauchery has risen to the level of quasi tradition. The best hope for a quiet Halloween seems to be coming from the National Oceanic and Atmospheric Association, which is predicting rain, hail and lightning in the area Friday night.
So, be safe out there, and try and make some good choices. Read the full APD press release, as well as another coaching parents on how to keep their kids safe, below:
HALLOWEEN ON THE ARCATA PLAZA

During past Halloween nights, unruly and criminal behavior has resulted in signifcant criminal activity on the Arcata Plaza and within the downtown areas. This activity has resulted in high value vandalism and property damage, unnecessary injuries, and multiple arrests by the police department.

Due to this past behavior, the Arcata Police Department along with officers from other local and state law enforcement agencies will be conducting increased, highly-visible and interactive patrols of the Arcata Plaza and downtown areas throughout Halloween night and weekend.

The Arcata Police Department is committed to maintaining a safe, secure and inviting environment on the Plaza and downtown areas, but will enforce a zero tolerance policy for criminal conduct. As a reminder alcohol consumption and smoking are not permitted anywhere in the downtown areas of Arcata.

There are many alternative events for adults to enjoy on Halloween from live concerts to dancing. The APD encourages people to act responsibly, respect the community, designate a driver, and have responsible fun.


PLAYING IT SAFE ON HALLOWEEN

This Halloween, the Arcata Police Department encourages people to play it safe. It is anticipated there will be rainy weather this Halloween. Parents and children should carry flashlights when out Trick or Treating and wear a piece of reflective clothing to keep yourself visible to motorists.

For older kids, parents should set a time limit for trick-or-treating and make sure the kids go with friends. Remind kids not to enter a strangers house or car.

Arcata Main Street will be hosting its annual Trick-or-Treat on the Plaza from 4pm to 6pm. Local businesses will be participating in this family-fun event. The Arcata Police Department will also be out handing out candy.

Stay safe and have a Happy Halloween!