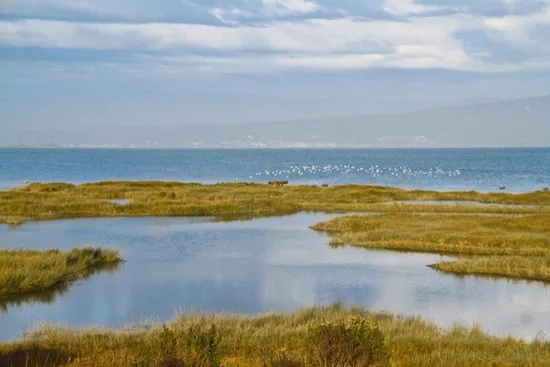 Zillow
A ranch with a view.
Ever dream of owning a property that offers room to wander, with ocean front views? Have a cool $2 million to spare? Well, if you answered in the affirmative to both those questions, then Rob Arkley has the property for you.
The Arkley-owned Sequoia Investments X recently put a more than 200-acre swath of property located on the Samoa Dunes on the market, boasting its promise of "seclusion for ranchers, hikers, surfers, beachcombers and fishing enthusiasts, while only a few minutes from historic old town Eureka." The listing includes an "older home, outbuildings and ranch facility," as well as some sensitive dune habitats and an ecologically significant piece of coastal forest.
Arkley made some
waves
back in 2005 when he purchased the property — located just west of the Samoa Bridge — from Simpson Paper Co., dropping in at the 11th hour to outbid Friends of the Dunes, which had been working with the harbor district and the Coastal Conservancy to purchase and preserve the land. "They got in second place," Arkley told the
Journal
at the time. "And it'll never, ever, ever, ever, ever be sold to them. I'm not going to give it to the government agencies. I believe there's far too much government land."
So the property — dubbed the "Dog Ranch" for its long-ago use as a home for lumber barons' hunting dogs — became Arkley's, one in a string of property purchases the prominent local business man made around the time. Attempts to reach Arkley for this story were unsuccessful, but it appears he's ready to move on, as the property hit the real estate listings earlier this week.
Carol Vander Meer, executive director of Friends of the Dunes, said she was aware the property was once again hitting the open market. Some time back, Vander Meer said, she received a phone call from Randy Gans, then vice president of real estate for Arkley-owned Security National, asking if Friends of the Dunes was interested in the property. (Gans is reportedly no longer with the company, but did not return a
Journal
call this week.)
Vander Meer said her organization is extremely interested in the "resource values" of the land, but isn't currently in a position to purchase it. She said Friends of the Dunes is making inquiries, however, and trying to find an approach that would land the property in some kind of protected status. "It's a very significant piece of coastal forest," Vander Meer said, "and it's like the southern-most range of that forest type, and we definitely want to see that preserved."
But the property has some issues, namely a network of homeless encampments, which were thrust into the public
spotlight
last year when a homeless man was shot dead with a crossbow. Vander Meer said she's hopeful whoever ultimately takes on the property is versed in the social and environmental challenges of working to clean up such encampments.
For more information about the property, view its posting
here
.