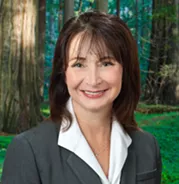 Former Humboldt County District Attorney candidate Elan Firpo took her first steps in a new career today, stepping in as a partner in a prominent local firm now known as Zwerdling, Bragg, Mainzer and Firpo.
"It's a new challenge and I'm really looking forward to a new chapter," said Firpo, who has worked as a deputy district attorney in Humboldt County for about five years.
With sitting District Attorney Paul Gallegos not seeking re-election, Firpo ran for the post in June, but finished a distant second to District Attorney-elect Maggie Fleming, who took 61 percent of the vote to Firpo's 25 percent. Fleming is slated to take office in January. Firpo — who on the campaign trail described being a prosecutor as a "calling" and a "dream job" — declined to detail the reasons for her departure other than to say she was presented with a great opportunity and felt it was time for a change.
This leaves Fleming to take over an office with a short list of attorneys experienced in prosecuting serious and violent felonies. In a message to the
Journal
, Fleming said she is "fortunate" that former Assistant District Attorney Wes Keat and former Deputy District Attorney Andrew Isaac have agreed to return to the office in January to help her temporarily while she recruits new attorneys. Both are retired, so it's unclear whether they will be returning on a full or part-time basis and for how long they have agreed to stay.
Gallegos said Firpo's departure is a loss for the DA's Office, but quickly added that the community is fortunate she is staying here in another capacity with a local plaintiff's firm that does good work. "I think she'll continue to be a credit to the legal profession in Humboldt County," Gallegos said.
Firpo's departure comes just weeks after her successful double murder prosecution of Bodhi Tree, who is now serving 108 years to life in state prison. Tree's conviction wound up being Firpo's prosecutorial swan song. She was also slated to handle the case of Gary Lee Bullock, a Garberville man accused of torturing and murdering popular St. Bernard Church Pastor Eric Freed on Jan. 1. Firpo said the hardest part of her decision to leave the office came when she called Freed's family to tell them she'd be handing off the case.