Manuel J. Orbegozo
A registered voter fills out a ballot at Arcata City Hall.
2nd UPDATE: And the polls are closed... Stay tuned for the first batch of results, which should be posted any time now by the humboldt County Elections Office.
UPDATE: The polls close in an hour, so if you want to vote you'd better get to it. If you're on the fence, scroll down to see some Humboldt State University students voting. They might inspire you.
PREVIOUSLY:
There's still time! If you haven't yet cast your ballot, fret not. You still have four hours to get to the polls and let your voice ring through the halls of local, state and federal governments.
Humboldt County Elections Manager Kelly Sanders said all appears to be going smoothly thus far on Election Day, with anecdotal evidence indicating a modest turnout. Sanders said her office received 15,537 vote-by-mail ballots as of Saturday, which have been verified and sit ready to count. That number represents a modest increase from the 12,431 received prior to the Primary Election back in June.
If you want to vote but aren't sure where to go, the
Secretary of State's Office
can tell you where your precinct is. And if you need a refresher on what you'll see when you get there, the folks at
www.smartvoter.org
have you covered, and will walk you through what's on the ballot.
And for those who are just chomping at the bit for some results, sit tight and check back with us at 8 p.m., when we expect results to start trickling in. From there, we'll be checking on all local races throughout the night, stopping in at some Election Night gatherings and reporting back.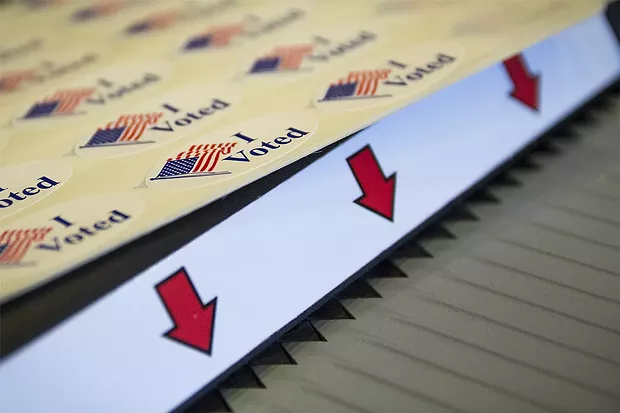 Manuel J. Orbegozo
"I Voted" stickers await voters after they submit their ballots in the voting machine at Arcata City Hall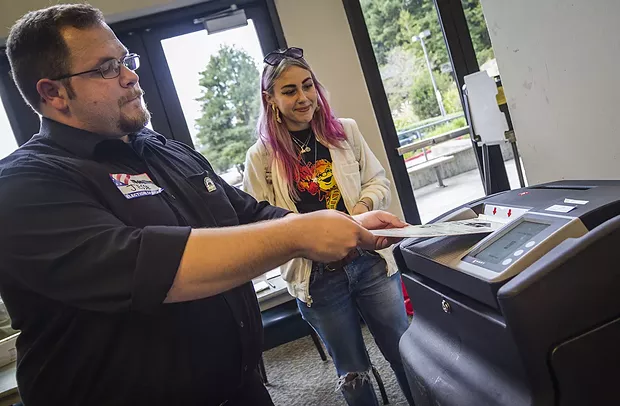 Manuel J. Orbegozo
Clerk Jesse Hoskins casts a ballot into a voting machine at the Humboldt State University polling station.
Manuel J. Orbegozo
First-time voter Heather Gundlach receives a ballot. "I finally feel like I have a voice," she said Gundlach.
Manuel J. Orbegozo
Samantha Boyd studies the voting catalog before casting her ballot at HSU.