Every folding chair was filled at the Eureka Women's Club last Saturday as politicians, activists, community organizers and concerned citizens gathered for the Affordable Homeless Housing Alternatives Forum. The forum, which was coordinated by AHHA (Affordable Homeless Housing Alternatives), featured a presentation on creating alternative housing villages followed by workshops and a call to action.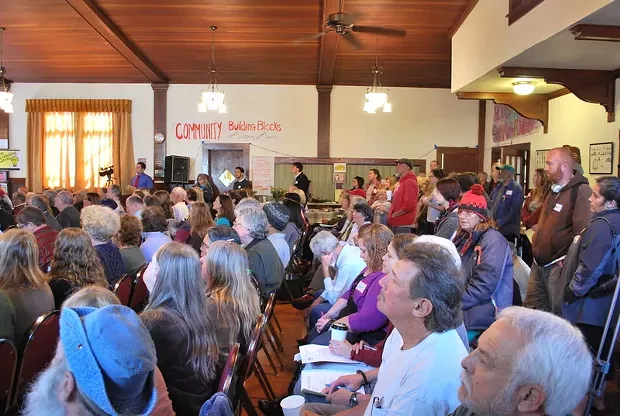 Andrew Heben, a co-founder of Eugene, Oregon's Opportunity Village, delivered a short slideshow presentation. The affordable village model is a cluster of small homes with a communal kitchen, bathrooms and a democratic system of management. It costs, Heben says, $3 a night to house a person there, with a third of the money supplied by the residents themselves. The rest of the money is contributed by private charitable organizations. The total cost per year to house 15 people in an affordable village model? About $29,000, just a hair under the estimated amount taxpayers pay every year to cover the costs associated with one person's chronic homelessness.
The affordable village model does have some drawbacks. Opportunity Village does not allow children. It may not be appropriate for the drug addicted or mentally ill, if these residents are disruptive to the communal atmosphere. (See Jim Hight's article, "
It's Time for an Opportunity Village
," for more information.) And it's supported by private benefactors, not government funds.
Among the attendees to the forum were county supervisors Virginia Bass and Rex Bohn.
"This is a conversation that has to be had," said Bass, "It's exciting to see how many people are willing to talk about this issue. Resolving it will be challenging, but anything worth doing is a challenge."
Sitting next to Bass, a man who identified himself only as John and claimed to have been homeless for close to twenty years, chimed in.
"I think there would be a big problem with theft in a place like that. That's always a problem on the street. So what are they going to do about it?"
Nezzie Wade, a sociology professor at Humboldt State University and co-founder of AHHA, opened the event with some sobering numbers. As many as 1,600 people in Humboldt County have nowhere to get "safe, legal sleep." These figures include over 200 children. Wade said that momentum around this issue is growing.
"As we enter the cold and wet season, and as we enter the holidays when people's hearts might be a little more open, it's increasingly important to highlight the complex issues around prosperity and poverty."
The next meeting to address these issues is scheduled for Dec. 6 from noon to 3 p.m. at the Jefferson Community Center, 1000 B St. in Eureka.