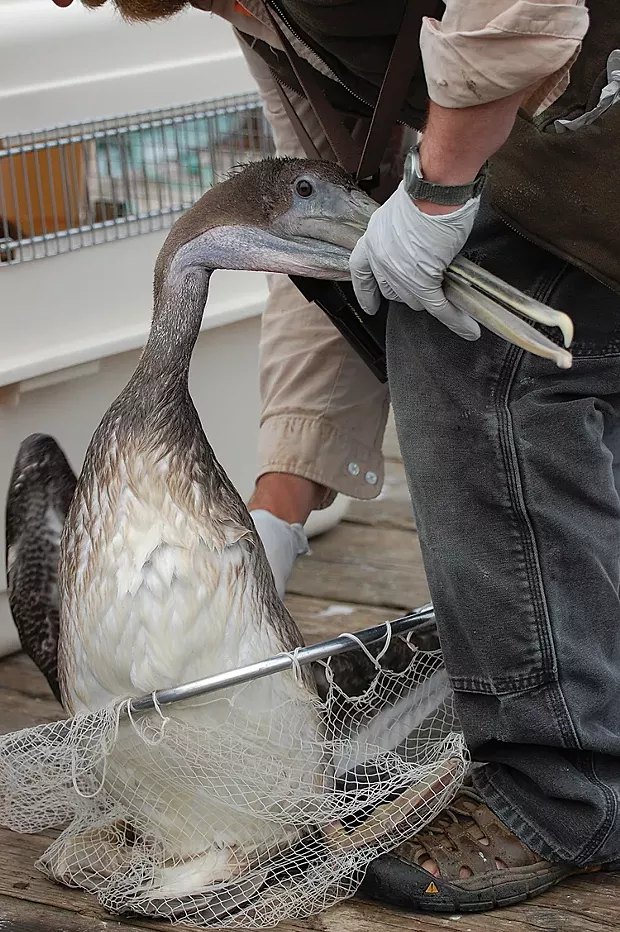 Photo by Drew Hyland
Monte Merrick rescuing an oiled pelican from the Trinidad Pier in 2012.
Pelican lovers and meaning seekers, you have just a few more days to see the documentary
Pelican Dreams
at the Minor Theatre in Arcata. The film, by award-winning filmmaker Judy Irving (
The Wild Parrots of Telegraph Hill
) is about pelicans but also much more than pelicans. Says the film's
website
:
"The film is about wildness: How close can we get to a wild animal without taming or harming it? Why do we need wildness in our lives, and how can we protect it?"
It co-stars some local creatures, including wildlife rescuer
Monte Merrick, of Bird Ally X
and the
Humboldt Wildlife Care Center
; some oil-bedraggled pelicans who'd foraged in openly dumped fish offal in some of our fishing ports; and a pelican rescued from a McKinleyville parking lot.
One of the chief stars, however, is "Gigi," a brown pelican who in August 2008 held up traffic on the Golden Gate Bridge until she was rescued and brought to a wildlife rehabilitation facility in San Francisco, where Merrick was working at the time; Merrick was her primary caregiver. The other chief bird star is "Morro," "a backyard pelican with an injured wing."
The film, making the rounds around the country, shows through Thursday, Dec. 11, at the Minor.
Some
Journal
stories about brown pelican rescues:
Déjà Rescue
.
Bird by Bird
.