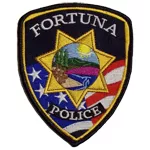 UPDATE: The woman killed by her own car in a Fortuna accident Monday has been identified as 32-year-old Victoria Pruett, according to Humboldt County Deputy Coroner Trevor Enright, who said Pruett died of blunt force trauma.
PREVIOUSLY:
The Humboldt County Coroner's Office has yet to publicly identify the woman killed in a single-vehicle crash Monday in Fortuna.
The Fortuna Police Department reported that officers were called to the 100 block of 12th Street at about 2:15 p.m. to a report of a 1997 Ford Explorer that had crashed into a vacant apartment complex. After arriving on scene, officers found that a woman had been fatally injured in the crash.
Fortuna Police Lt. Matt Eberhardt said a preliminary investigation has determined that the woman was the owner of the Explorer, but was outside the vehicle when it pinned her against the vacant apartment complex. "We seized the vehicle for further investigation and there is some indication that we suspect a possible mechanical issue (caused the crash)," he said.
Eberhardt declined to comment on whether anyone else was in the vehicle at the time of the crash, saying "it's still under investigation at this point." But Eberhardt said there's no indication of any ongoing danger to the public.