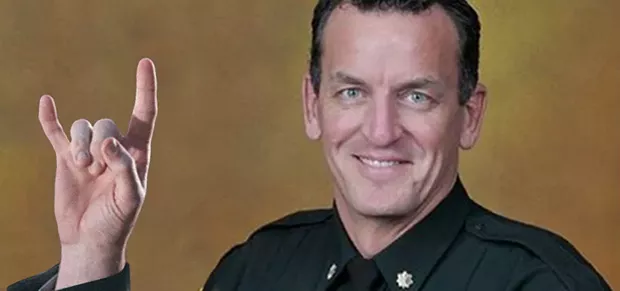 Donn G. Peterson, Humboldt State University's new California-born, fresh-from-Florida
police chief
, was sworn in on Jan. 5.
Buried in the "welcome-aboards" and "glad-to-be-heres" of the university's press release was a thrashin' fact about the new chief: he's a "huge fan of Metallica."
Does that mean the University Police Department will stop enforcing noise complaints? Will card-carrying Metallica fan club members get a pass on jaywalking? The ramifications are yet unclear, though you might want to invest in a
Master of Puppets
poster for your dorm room, just in case.
Peterson also wields an axe (a Fender Strat — more Hendrix than Hammett, but that's OK), so if anyone's looking to jam…
From the university:
Donn G. Peterson, a veteran of 29 years with law enforcement, began his tenure as Humboldt State University's new chief of police.

The former Major for the Broward Sheriff's Office in South Florida, Peterson, 50, was sworn in as Humboldt State's new police chief by university President Lisa Rossbacher on Jan. 5 in a small ceremony at University Police Department headquarters in the Student Business Services building. A more formal ceremony will be held later this spring.

"When I found out I was chosen to be the HSU police chief, I thought: 'Did I win the lottery?' I feel absolutely blessed, humbled and honored to have this opportunity." says Peterson. He succeeds Lynne Soderberg, who was police chief for three years.

He brings nearly three decades of law enforcement experience, including 12 years of consecutive command-level experience in both large metropolitan areas and college campus enforcement services. He has a B.A. in Criminal Justice Management from Union Institute & University and is a graduate of the 216th session of the FBI National Academy.

"He has all the experience, training and the background," says Vice President of Administrative Affairs Joyce Lopes. "That being said, he is approachable and down-to-earth, and that makes people feel comfortable, which will be important as he works with students, staff and faculty."

Lopes said Peterson's ties with not only California, but also academia makes him a good fit for this role. Peterson grew up in Sebastopol. His mom is an alumna of Sonoma State University, his father was Dean of the College of Agriculture & Natural Resources at the University of Delaware, and his brother is an elementary and special education teacher in Delaware.

"I grew up visiting my dad in the lab and going to college athletic events with my parents," said Peterson.

According to Peterson, the decision to accept the top cop position at Humboldt State was a natural next step.

"I felt that I had obtained a wealth of experience and that it was time to do something different," he said. "So the opportunity at HSU was serendipitous. I thought, here's a place that's related to my mom's alma mater, the position is in a university setting, and it's in Northern California. That all feels like home to me, and I wanted to come home."

One of the most exciting aspects of working at HSU, he says, is the chance to interact with students. "What I really can't wait for is to give students a chance to get to know me. More importantly, I want to get to know them and their concerns because they have a voice."

Besides building relationships with students, Peterson plans to work with campus and community officials on campus crisis intervention efforts, such as helping students in distress and directing them to resources (such as mental health professionals).

He's also eager to work with HSU's Sexual Assault Prevention Committee (SAPC), a group of faculty, staff, students, law enforcement, and community partners dedicated to preventing sexual violence.

He has a beloved wife, Renee, son, Corey, and dog, Branson. He's also the proud owner of a Fender Stratocaster electric guitar, which he plays in his spare time, and is a huge fan of Metallica.