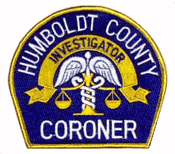 A 24-year-old San Francisco woman drowned Sunday morning while kayaking on the Eel River with a group of friends.
Humboldt County Deputy Coroner Roy Horton said the woman, identified as Samantha Dweck, originally from Carlisle, Massachusetts, was with a group of about two dozen people that are members of a San Francisco running club that was taking a multi-day outing on the river. Horton said the group hit the river Saturday, spending the night at Fort Seward before taking to the water again Sunday morning.
The group — which was travelling together in nine kayaks and three canoes — came to the McCann Bridge at about 9:45 a.m. He said two canoes passed under the bridge before Dweck and a male friend attempted to follow in a kayak. "The current was very swift," Horton said, adding that the kayak was pushed into one of the bridge's girders, causing it to capsize. The kayak was then trapped upside down by the hydraulic pressure created from the current swirling around the girder. Dweck, who Horton said had been kayaking three or four times before this trip, couldn't free herself from the kayak and drowned. Horton said Dweck and her friend were both wearing life jackets.
"It's just a terrible tragedy," he said.
See the full press release from the sheriff's office below.
On 01-25-2015 at about 9:45 am the Humboldt County Sheriff's Office, received a 9-1-1 call regarding a Kayak accident that had just occurred underneath the McCann Bridge on the Eel River. A female Kayaker was trapped underneath the water in her Kayak next to a pilling on the McCann Bridge.

The Sheriff's Office Search and Rescue along with the Fruitland Ridge Volunteer Fire Department, Eel River Valley Rescue and Cal Fire immediately responded to the incident. When rescue units arrived on scene tragically they were too late to save the female victim from drowning.

Before the accident a group of 24 people were on the Eel River in Canoes and Kayaks for the day. The female victim was in a Kayak with another male subject. When they tried to go underneath the McCann Bridge their Kayak flipped over because of the swift water next to the bridge pilling. The male subject was able to escape the Kayak, but the female victim was stuck in the Kayak. Due to the swift water next to the bridge piling the friends of the victim were unable to rescue her.

The victim parents were notified of the tragic accidents, which both live out of state by the Humboldt County Coroner's Office. The victim has been identified as Samantha Dweck age 24 from Carlisle, Massachusetts.